The Charm of Bistro Dining Set: A Compact Solution for Modern Homes
Duhome Furniture .
Aug 10, 2023
You've undoubtedly heard the saying, "Good things come in small packages." This holds particularly true when it comes to the understated elegance of bistro dining sets. From studio dwellers to tiny home enthusiasts, everyone understands the value of space, especially in the kitchen. But here's the secret weapon in the never-ending quest to maximize minimal square footage: bistro dining table sets.
Though small in stature, these petite pieces of furniture are packed with versatility, serving as the perfect solution for both indoor and outdoor settings. Bistro tables and stools are the superheroes of the furniture world, springing into action year-round or just when you need an extra surface. Their compact size allows them to be tucked into a corner when not in use, freeing up valuable space. Yet when called upon, they provide a cozy spot for sharing a casual meal or cup of coffee. So whether you're working with limited space or simply appreciate the allure of compact, adaptable furniture, bistro dining tables will make you rethink the "bigger is better" mantra.
Bistro Dining Tables: Smart Furniture for Smart Living
In a world where less is often more, making smart furniture choices becomes paramount. The rise of small-space living has catapulted C tables and drop-leaf tables to fame, but there's another contender in the ring: bistro dining room tables.
These compact marvels are not only functional for those looking to free up space, but they're also a stylish alternative for homeowners with room to spare. The versatility and adaptability of bistro dining sets make them a wise investment. Use them outdoors during warmer months, then bring them inside when the weather cools down. The allure of a cozy corner for tea, a breakfast nook, or even a compact outdoor retreat is hard to resist. Let's not forget their ability to serve as a primary dining table in a studio apartment!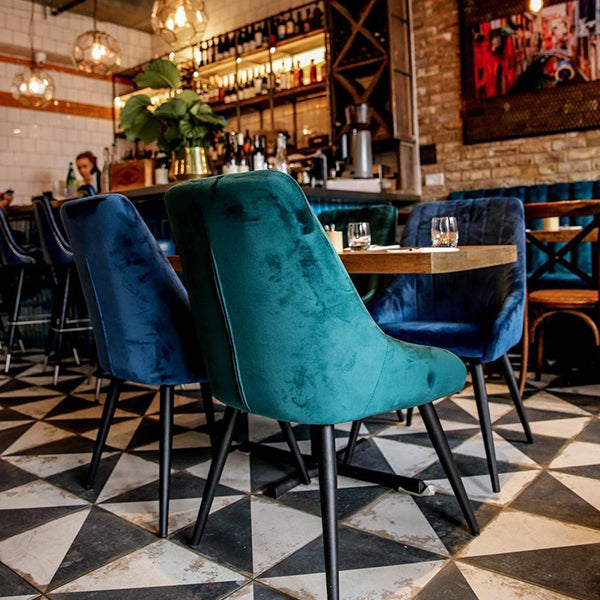 Bistro Dining Sets: Your FAQs Answered
What is a Bistro Setting?
Bistro dining room settings are commonly seen adorning pavements outside restaurants or cafes, offering a cozy alfresco dining experience. These tables were originally designed to be small enough for two people to comfortably share a meal, while allowing ample room for passersby. The classic bistro ambiance strikes the perfect balance between privacy and community.
Why "Bistro"?
Originating from France in the early 19th century, "bistro" was initially French slang for a small café or wine shop. The term was borrowed from Russian invaders during the 1814 occupation of Paris. Over time, the modest bistro dining setting became ingrained in French culture and spread across Europe.
Bistro vs. Fine Dining
Bistros sit comfortably in the middle of the dining scale, providing an upscale meal experience that falls a few steps short of the multi-course extravaganza offered by fine dining establishments e.g., salad, appetizer, entree, dessert. The relaxed bistro vibe encourages lingering over coffee or drinks after your meal.
What Do We Use Bistro Dining Sets for?
Bistro dining table sets are ideal for outdoor spaces with limited room, like balconies or small patios. But don't let that limit your imagination. They can be versatile additions anywhere you need a stylish, compact dining option, from kitchen corners to entryways.
Can We Use the Bistro Table as a Dining Table?
Absolutely! Bistro tables are perfect for a multitude of uses, from serving afternoon tea to acting as the primary dining table in a cozy studio apartment. Their modest size belies immense functionality. Measuring just two to three feet wide, bistro dining tables take up a fraction of the space of a traditional dining table. Yet they still comfortably accommodate two place settings. This makes them a space-saving lifesaver in compact living spaces where every inch counts.
Beyond small apartments, bistro tables also shine in larger homes as auxiliary dining surfaces. Keep one tucked in the corner of the kitchen for quick breakfasts or set it up in the family room for impromptu dinners in front of the TV. When entertaining, use a bistro table as a place for guests to set down drinks and plates while mingling. For outdoor dining, a bistro table on the patio or deck provides an intimate setting for al fresco meals.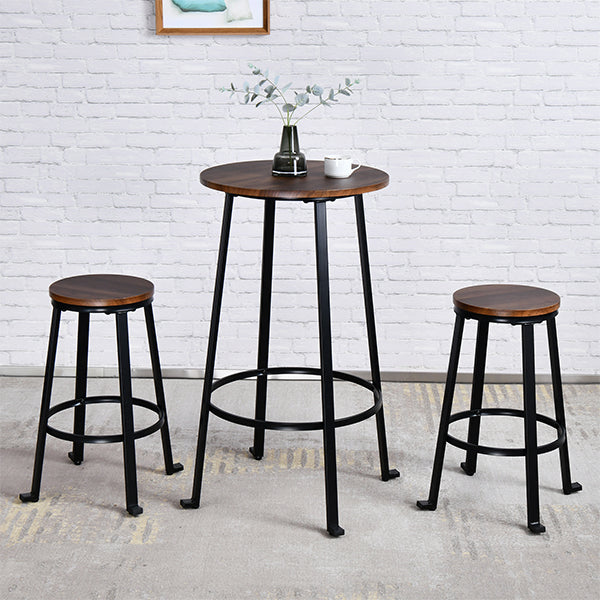 Bistro Set vs. Patio Set?
While both serve outdoor dining needs, bistro dining sets are generally smaller and more compact than patio sets, making them perfect for creating a stylish dining space within a smaller garden section or balcony. If you're working with limited outdoor area, bistro dining sets maximize function.
Bistro vs. Pub Table?
Bistro tables, typically 28 to 36 inches tall, pair well with standard dining chairs or bistro chairs. On the other hand, pub tables are taller, around 40 to 44 inches, and require pub-height chairs or stools. While pub tables encourage standing, bistro sets promote lingering over conversation.
Can We Use Bistro Dining Tables Indoors?
Definitely! Bistro dining tables are as versatile as they come, suitable for use indoors or outdoors, year-round or in a pinch. Their adaptability means you get more function out of your investment. With a classic yet timeless design, bistro dining tables effortlessly blend into any decor aesthetic, from modern minimalism to cozy cottage style. Their compact size also makes them a great space-saving solution for smaller homes or apartments where every inch counts.
Can We Place a Bistro Table in the Living Room?
Why not? A bistro table can replace a traditional side table, adding height and visual interest to your room. It can serve as a stylish companion to your sofa or function as a centerpiece displaying a decorative lamp or books. Get creative with bistro tables beyond the dining room.
What are Bistro Dining Room Tables Made of?
Traditionally, wrought iron or steel was the go-to material for bistro tables and chairs, but modern designs have ventured into other materials, such as marble, wood, or glass. Consider your aesthetic tastes and needs when selecting bistro table materials.
The Best Bistro Dining Sets: Our Recommendations
I hope this breakdown of the bistro dining set helps you decide if one of these petite tables might be perfect for your home! If you're in the market for a durable, versatile bistro dining set, your search ends here. Visit our
official website
to explore a curated selection of
the best bistro dining sets
that promise to transform your space, no matter its size. After all, when it comes to bistro dining, it's all about making every square inch count through smart, adaptable furniture. Discover sets that will meet your unique needs.