9 Fun Facts about Bar Stools You Probably Don't Know
Duhome Furniture .
Apr 12, 2023
Bar stools
are one of the most versatile pieces of furniture in the home, and they can be used for more than just getting you up to the kitchen counter. Whether you're entertaining guests, working in your home office or enjoying a lazy evening at home with friends, bar stools can make all of these activities easier and more comfortable. But there are many other reasons why bar stools have become so popular over time:
Bar Stools are a Very Popular Furniture Piece
You've probably seen bar stools in many homes, but you may not know the full history behind them. Bar stools were originally used by bartenders to sit on while they worked at their stations behind bars. Eventually, people started using these stools for themselves and adding them to their homes as furniture pieces! Bar stools are great because they add both comfort and character to your space - they're perfect for any room in need of some extra seating!
There are Several Different Types of Bar Stools
Wooden bar stools, which have been around since the 1950s and are still very popular today.
Plastic bar stools, which are inexpensive to purchase but can be difficult to clean - because they're made from plastic and not wood.
Metal bar stools that are durable and last longer than wooden ones do - and if you're looking for something unique or unusual for your home or business, there's no shortage of interesting designs out there!
There are also folding bar stools, which can be a lifesaver if you have a small space and need to save room. And finally, there are counter height bar stools that are great for people who don't want to have to bend down too far when they're sitting down at their kitchen or dining table.
Bar Stools Can Come in Many Different Sizes and Heights
Bar stools come in many different sizes and heights. You can find bar stools that are tall, short, low and high. Some bar stools are in between these heights as well! Bar stools can also be long and short or round or square!
Wood Bar Stools are the Most Common Type of Bar Stool
Wood bar stools come in many different types of wood and can be used for years to come. If you want to buy a new wood bar stool, you should consider one made from teak or mahogany. These two woods are known for their durability and strength, so they'll last longer than other woods such as pine or oak.
There are Many Different Types of Wood Used for Wood Bar Stools
Some of the most popular are oak, maple, walnut, cedar and teak. Beech and mahogany are also common choices. Cherry is another option that can be especially beautiful when stained in dark colors like black or dark browns. Some manufacturers will use a combination of different types of woods in their stools to create unique patterns or textures on their seats that may not be possible with just one type of wood alone.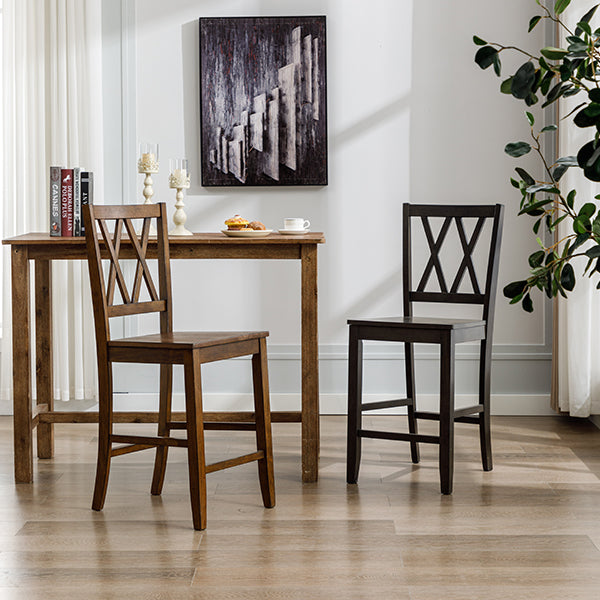 Plastic Bar Stools are an Inexpensive Option for Your Home
Plastic bar stools are an inexpensive option for your home. They're easy to clean, lightweight and durable. Plus, they come in many different colors!
Metal Bar Stools are Great and Have Become More Popular Over Time
Metal bar stools are a great choice for those who want to add a modern touch to their decor. They come in many different styles and colors, which means you can find one that fits your personal style. They're also easy to clean, durable and sturdy enough for most people's weight (unless you're super tall). They can be used in the kitchen or dining room, so it doesn't matter if there isn't much space around where you currently live or work!
Swivel Bar Stools Have Been Around Since the 1950s
Swivel bar stools were first used in kitchens and bars, but now you can find them in homes, offices and restaurants all over the world. They are also great for adding comfort and style to your kitchen or dining room. If you need extra seating space at your countertop area, swivel bar stools are a good choice too! Children love these because they allow them access to the countertop - this means they can reach their drinks without having to climb onto something high (and dangerous).
Backless and Padded Bar Stools Have Gained in Popularity Over the Years
Backless bar stools are great for small spaces, and they can be used in a bar area or kitchen island. The backless stool is also ideal for children because it gives them a feeling of independence and confidence as they sit at the countertop alone to eat breakfast or do homework. The best part is that these stools are affordable!
Bar Stools are a Fun Way to Enhance Your Kitchen or Dining Area Seating!
Bar stools can be used in the kitchen, but they're also great for adding extra seating at the dining table. If you have limited space, bar stools make it easy to create more room when needed by folding up against the wall when not being used.
Bar stools come in many different sizes and heights so you can find one that fits perfectly with your needs. Wooden bar stools are probably the most common type of bar stool, although there are other options available as well (for example: metal).
So, if you're looking for a way to spice up your kitchen or dining room, then we highly recommend purchasing some bar stools. They're an inexpensive way to add some color and fun into your home! And with so many different types available today (wooden, plastic or metal), there's something out there for every budget - and style preference too!