9 Questions to Ask Before Buying Bar Stools with Backs
Duhome Furniture .
Aug 17, 2022
Introduction
When I first decided to buy a bar stool, I was overwhelmed with all the options. However, once I'd narrowed down my needs and budget (and had a few drinks), it became clear that finding the perfect piece of furniture for your home can be easy as long as you know what questions to ask yourself. Below, we'll go through some of the most important queries that will help you decide which type of bar stool or chair you should buy.
Which Option is the Most Comfortable?
How do you want your bar stool to feel? Do you have a preference for a wide seat or one that's narrow? Narrow seats offer more room at the front, while wider seats are better suited to people who like to lean back in their chairs.
How comfortable is the back on this bar stool? Is there padding, or will it dig into your back if you sit down for long periods of time?
Does this bar stool look like it would be easy to get up from? If so, does that mean its height is too low for comfort (or safety)? Or does it seem like the perfect height for someone 5'6"?
Is there anything in particular about this model's parts that make the bar stool stand out compared with other models available on Amazon right now? Are there any drawbacks here (e.g., no armrests)?
Will the Bar Stool Endure Daily Use?
It's important to consider how often you'll be using the bar stool with backs and what kind of wear it can withstand. If you have a casual home, use the
bar stool with backs
once in a while, and don't mind if it gets scuffed up or dinged here or there each time, something less expensive may be fine. But if your bar stool with backs is going to get daily use in a high-end restaurant or upscale event space - and will need to withstand constant exposure to heavy objects like plates of food - you'll want something more durable.
Also think about how much weight each chair will hold: if you plan on buying several bar stools with backs for use around the house (or at an office), make sure that they're rated for adults - and not just children! A good rule of thumb is that each chair should hold at least 250 lbs., since most people weigh between 150 lbs. and 200 lbs., even after eating their weight in pizza.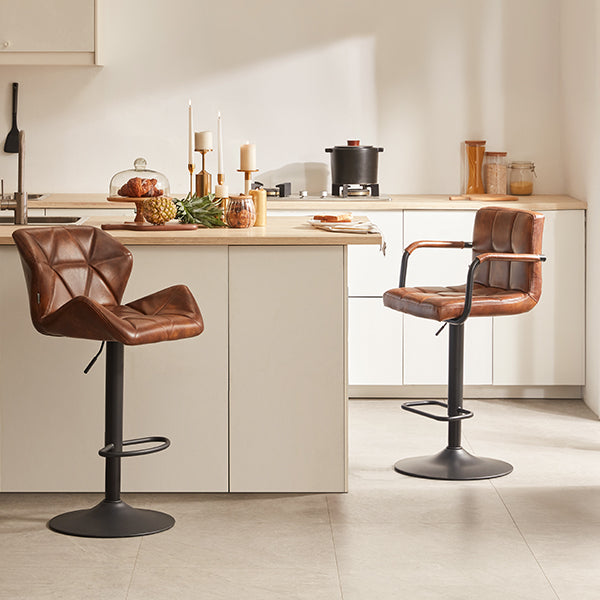 Will the Bar Stool Fit Under My Bar?
Before you make a purchase, there are a few things you should consider. Will the bar stool fit under your bar? If not, the stool may be too tall or wide for the space. Make sure that any comfortable bar stools with backs will be able to fit comfortably at your home or office bar.
Also consider how heavy the bar stool is and if it's easy enough to move around when needed. A heavy-duty steel frame is preferable as this will support more weight than other materials such as plastic or wood. And finally, how much does this model cost? When considering price points on all types of furniture items (including kitchen islands), think about what type of material makes up its construction. The better quality materials should cost more but last longer which makes them worth investing in long term!
What's My Ideal Seat Height?
Ideal seat height is the height that allows you to comfortably rest your feet on the floor.
Ideal seat height is the height that allows you to sit up straight.
Ideal seat height is the distance from your chair to the table so that you can reach it without stretching or having to stand up and bend over.
Should I Buy with or without Arms?
There are a few considerations to take into account when deciding whether you want your bar stool to have arms. With arms, the chair is more comfortable and stable. It's also more durable and attractive. The only downside is that chairs with arms are usually costlier than those with no arms. As such, if you're looking for something affordable, it's probably better to look at getting a non-armchair version instead.
What Kind of Style Should I Get?
As you begin to search for bar stools with backs, you'll want to consider what kind of style will best fit your home. You may be looking for something that matches the rest of your furniture and decor, or perhaps you're hoping to add something bold and new. Either way, think about whether this is a piece that will last through the years or if it's just temporary. If you have other pieces that are similar but not identical (like a rug), look for
comfortable bar stools
with backs in different styles, so they complement each other nicely.
When buying from an online store you'll want to make sure all these questions are answered before committing yourself financially. If there are any concerns about customer service or shipping times once you receive your product, make sure those things have been taken care of first as well!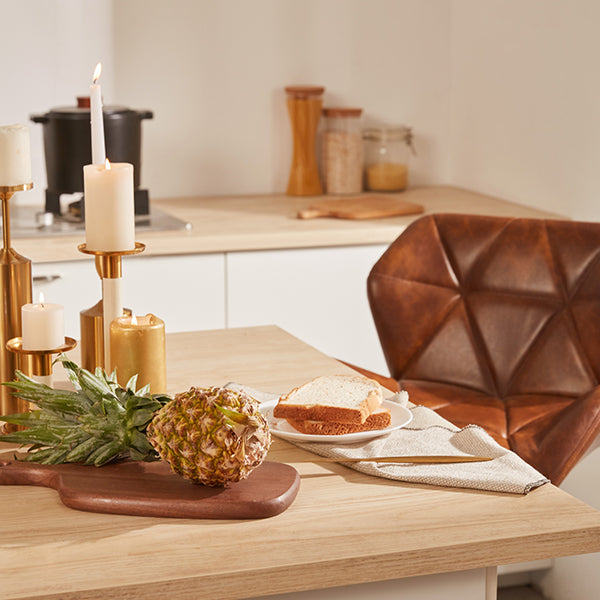 Should I Buy Chairs or Bar Stools with Backs?
Based on your answers, it's clear that you're looking for a sure thing. A bar stool with a back is the most stable option, ensuring that you're not going to accidentally fall backwards when someone bumps into your chair. It also makes cleaning much easier: instead of wondering how many invisible germs are lurking inside the crevices of your chair, rest assured that you can wipe down the entire surface area of the stool.
Bar stools with backs are more comfortable because there's extra support for your back and neck - and comfort is important when you plan on sitting at a bar for hours on end! And what about style? Bar stools with backs come in all kinds of styles from sleek contemporary designs to traditional wooden chairs complete with cushioned seats - you'll find something perfect for any home décor!
What Material is Best for My Needs?
If you're looking for a stool that's luxurious, soft and comfortable, velvet is a great choice. If you're looking for something waterproof and easy to clean, ABS is ideal. If durability and decency are most important to you, faux leather is the way to go. Leathaire stools are also very highly rated by consumers because they are incredibly wear-resistant and easy to care. The final option is faux linen: it's lightweight and breathable which makes it great for keeping cool during extended bar-top sessions or just relaxing with friends in the summertime.
How Much Can I Spend on the Perfect Bar Stools with Backs?
When it comes to choosing what to spend, your decision will depend on how much you can afford. The more you're willing to spend, the better quality you'll get and the more comfortable they'll be. If you want something affordable while still maintaining comfort and style, consider investing in bar stools with backs that have adjustable height settings.
Conclusion
In the end, you want to be sure that your bar stools with backs are a perfect match for both your home and your needs. You don't want something that's too big or too small or uncomfortable! So take these questions into consideration when shopping around, and make sure they're not just practical but also comfortable enough for daily use.