Why Do Home Office Chairs Have 5 Wheels Instead of 4?
Duhome Furniture .
Feb 07, 2023
If you're someone who pays close attention especially to details, you may have been wondering for a while: why most of our home office chairs shown up in daily life have 5 legs (or more precisely, 5 wheels or castors), instead of 3, 4, or even 6? It's a question that our Duhome designers are often asked. Now let's discuss this further to find out what's behind the issue.
When Did Home Office Chair Have Wheels?
What do you look for in a home office chair as a customer? Obviously, comfort comes first, and then it must be the function and mobility. Or let's put it in another way. When talking about a home office chair, what kind of features the chair exhibits in your mind? A swiveling base with rolling wheels? Yep, many home office chairs of this era look like.
Yeah, the story of this wheel thing began nearly two centuries ago. The naturalist Charles Darwin grafted wheels onto a normal chair in the 1840s, so he could swivel between specimens more efficiently and quickly. Really a bizarre idea, isn't it? But indeed this small action eventually gave birth to a proto-office chair, sparking huge chain of chair revolution dramatically.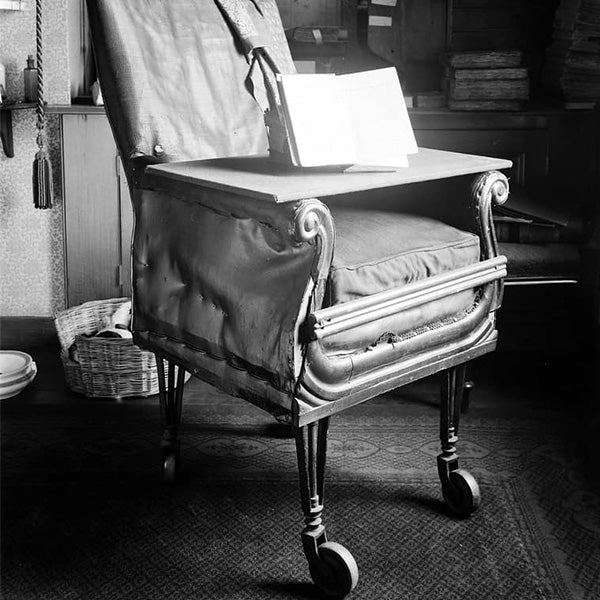 Charles Darwin Invented Proto-Office Chair with Wheels in the 1840s
Why Do Most Home Office Chairs Come with 5 Wheels vs 3, 4 or 6?
While a home office chair can function with only 3 or 4 wheels, the National Institutes of Health still advise us to use a 5-point chair base for ease movement, maximum stability and minimized possibility of the chair tipping. Why bother adding an extra leg? This is because four-castor chairs make you tip backward pretty easily due to a full 90 degrees of unsupported area between each foot of home office chairs. What about 3? Unfortunately, three feet is even worse with 120 degrees between each foot.
Five Important Reasons to Use 5 Wheels in Home Office Chairs
In a nutshell, there are five main reasons why a home office chair would typically have five wheels versus 3, 4 or 6. With a five-star castor chair, it would be easier for you to move around a work-space with better stability and balance. Five legs are built to last, and help distribute the load more evenly with shallower dents in the carpet than a chair with fewer wheels. And considering saving cost and earth resources, five legs are enough instead of 6 or more.
Ease of Movement
Just as Charles Darwin, we could easily find that those wheels do a great job in speeding up the movement from one work station to another. This naturally helps you work more productively with reduced chronic back, hip and leg strain. And another thing you may overlook is that rolling chairs with castors allow extra movement. No more twisting awkwardly when you have been seated for long periods of time!
Ultimate Stability & Balance
The biggest reason why home office chairs are equipped with five castors is to provide the user with optimal stability and improved balance. Unlike those traditional 4-legged chair, a
rolling barrel chair
bear all the weight of the occupant with its central shaft. Thus, the foot assembly is the key point. With four feet, there is a full 90 degrees of unsupported area between each foot, resulting in easy chair tipping. Three feet is even worse with 120 degrees between each foot.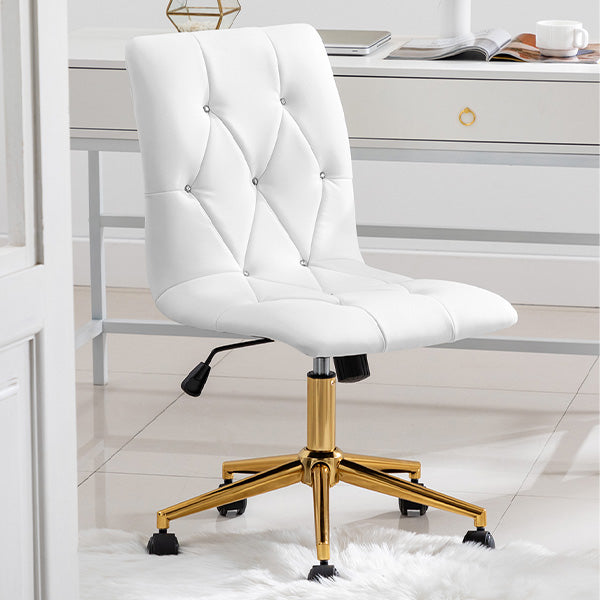 Cost-Saving & Earth-Friendly Final Solution
Wait a minute! You may get a question now - if more legs means more stability, why not equip all office chairs with six castors or more to maximize our safety? Sure, more castors, more stability. But it also leads to more materials used and higher cost. Thus, for the sake of your wallet (we all know that customers pay for the extra cost finally) and our planet, chair designers choose the most suitable number - five. Besides, you can see less returns when adding more castors than 5. "Less is more." will be the truth when the castors are over 5 because of geometry.
Reliable Strength & Durability
Another reason why most of home office chairs have a minimum of 5 castors is to improve the strength and prolong service time. As is known to us, more legs means heavier chairs, which also boast long-lasting durability. With a 5-castor rolling chair, you're less likely to have the chair break easily, too. A plus indeed!
Extra Aesthetics in Working Space
Moreover, more legs also offer better spread of the load, so the wheels of home office chairs will not sink too far into your treasured carpet or bring much destroy to your wood floor. That ensures some protection over your space, while five-star base always looks amazing with its creative aesthetics.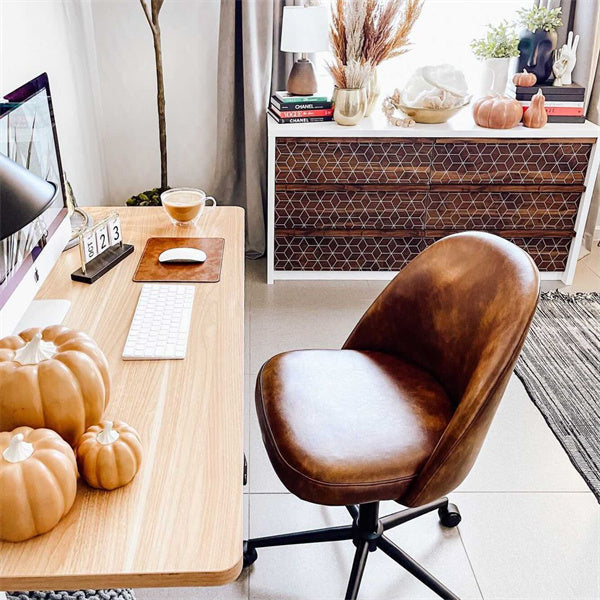 Bottom Line
Because of these considerations, a home office chair with 5 wheels is better suited for functionality. A 5-castor chair in your working space will obviously provide you with the best level of comfort, mobility and safety. If you're looking to buy a new trendy
home office chair
with 5 legs to work wonders, look no further to pick one at
duhome.com
to help you enjoy more productive work, whether from home or at the office.