What is a Classic Victorian Slipper Chair? - Fascinating History Revealed
Duhome Furniture .
Apr 18, 2022
What is a slipper chair? A wacky chair shaped like a slipper? Most people have no idea what is a slipper chair all about, since we are living in the modern age. Or some of you may know what this piece of vintage-inspired stunner looks like - from malls, cafés, behind the scenes in studios or magazines, but perhaps less known is this slipper chair's storied past. Never mind, we'll make all clear in this post to help you solve the mystery.
THE FASCINATING HISTORY BEHIND CLASSIC SLIPPER CHAIRSI: What Is a Victorian Slipper Chair?
A classic slipper chair refers to a medium to large upholstered accent chair that lacks arms and sits closer - about 14 to 18 inches off to the ground. You can find the antique Victorian slipper chair looks like a hard "L" with short legs, when looking at it from the side. Word "Slipper" in the name derived from two different shoe types: the women's dancing shoe in the 18th century, and the women's house slipper known to us all today.
II: Why Is It Called a Slipper Chair?
What is a slipper chair used for? Women in Victorian era, especially the high-society ladies needed a seat when maids help them "slip" into their dancing shoes or slippers. Why short legs and armless? Just imagines this - you're one of the graceful ladies, beautiful and smart, swathed in a heavy petticoat and a tight laced-up corset, sitting on a small slipper chair by the fire. What's your expectation for this slipper accent chair then? For me, I would wish it be wide and open, since the task of putting on long stockings and slipping on shoes was no small feat, even with the help of the maids or servants.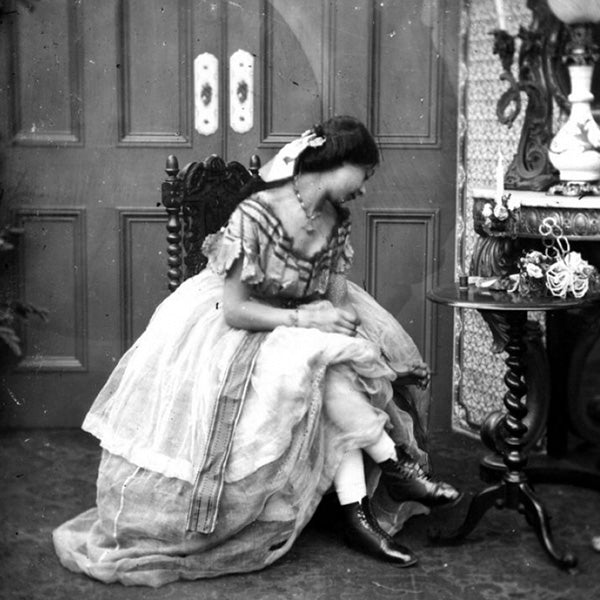 Women in Victorian Era Sitting on the Chair
III: How Billy Baldwin Brought Slipper Chairs into American Living Rooms
Although vintage slipper chairs originated way back in Europe like England and France, it first debuted out of the bedroom for all to behold thanks to the acclaimed American decorator Billy Baldwin - who had decorated the Kennedy White house along with First Lady - in name and taste - Jackie Kennedy. He redesigned the classic slipper chair and upgraded it with a modern silhouette - a squared-off back and tight upholstery. Also dressed the high back slipper chair with a box-pleated skirt or tight slipcover to conceal the base. This proves to hit the jackpot and since then the new-version slippers chair found its way into living rooms, dining rooms and even home offices rather than limiting itself to the boudoirs.
From then on, modern slipper chairs have become a permanent fixture and been sought after in full range of designs and styles, from the tufted leather slipper chairs with no skirt to retro patterned slipper chairs to the contemporary slipper chairs interpreted with feminine contours.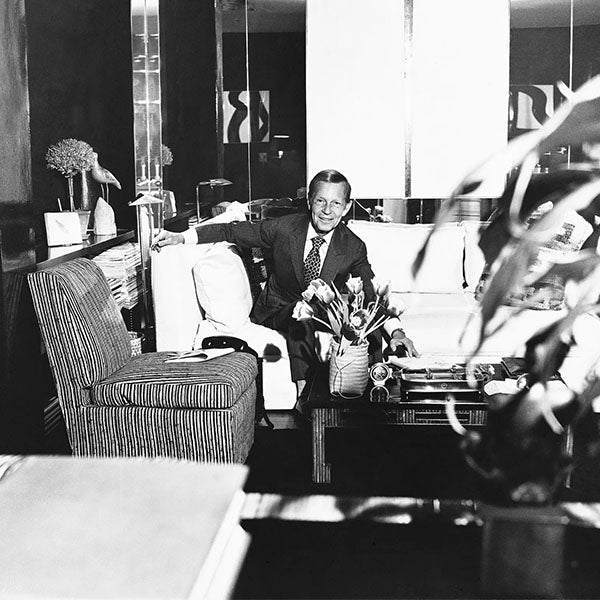 Billy Baldwin and Redesigned Slipper Chair
HOW TO STYLE YOUR ROOMS WITH

MODERN SLIPPER CHAIRS

TODAY?I: Modern Modifications of Slipper Chairs
Long gone are the days when women wear such extravagantly wide petticoats or inflated skirts and tight corsets. But we still love the slipper chair - of course, with a more modernized design - plain, eclectic and minimalism-spirited. You can find modern slipper chairs everywhere, from corners in bedroom and dressing room to living rooms and reading nooks in home offices. The movable size allows modern slipper chairs to fit into any awkward space too small for an armchair. Truly a versatile hero all throughout the house for casual living with comfortable upholstery, like soft velvet or easy-to-clean faux leather.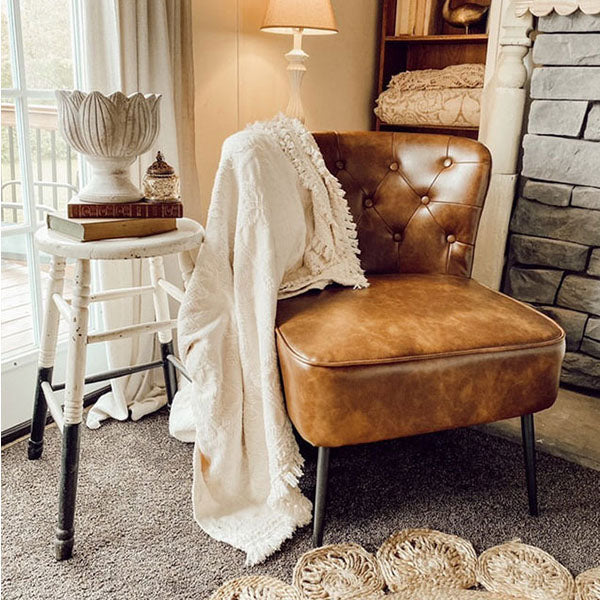 II: Breathe Life to Your Bedroom/Dressing Room with a Slipper Chair
Bedrooms - where vintage slipper chairs were born, are obviously the place to make slipper chairs feel most at home. Bedroom slipper chairs come in all assortment of designs and shapes as the years go by. You may find many master bedrooms in modern homes come with a small space across from a bed - there you can add two bedroom slipper chairs to create a perch to put on shoes, catch up a bit of reading, or just gaze at the skyline and absorb occasional sunshine while daydreaming, if the slipper chairs are right placed in front of a window.
II: Can Slipper Chairs Be Used in Living Rooms?
Sure! Another place to use a wide slipper chair is the living room. It can be a standout in the living room as an extra seat for those who prefer lower seats to chill out. The inviting shape seems to say: "Come, take a load off." So feel free to to give yourself a quick break from the dreaded daily household chores. Being aesthetically pleasing to the eyes and easily moved around, slipper chairs with compact shape and no arms can help open up multiple channels of conversation, or create a private nook for reading or unwind yourself. One of the most common uses is a slipper chair framing a coffee table, where you can sip a cup of coffee and enjoy the styled moment.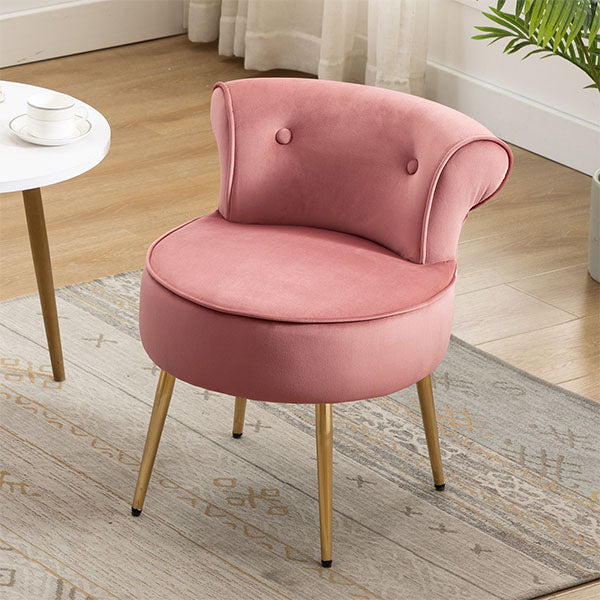 III: Slipper Chairs in Nursery Rooms
Why are Victorian slipper chairs so low? For that special period, the low-slung design of classic slipper chair allowed the mother who would have been wearing a stiff corset to interact with small children without bending over. While time has changed and we typically no longer wear restrictive layers of clothing, slipper chairs with short legs are still an ideal solution for children to sit in and play on, protecting them from accidents like falling, stumbling, or tripping. Thus, you can find slipper chairs ubiquitous in modern nursery rooms for their dedication in caring and breastfeeding.
IV: Can I Use a Slipper Chair at a Dining Table?
Doubled as a dining side chair to pair with mini tables or coffee tables, the slipper chair easily fits in any kitchen or home bar with supplemental aesthetic, compact size and easy movement, great for small spaces like lofts or apartments. Place the slipper chairs around a large long rectangular dining table, so you can get a classic styling arrangement and add spice to your daily dining or festive gather-togethers. They don't have to match, since the mix-and-match look has come into vogue in the farmhouse dining rooms.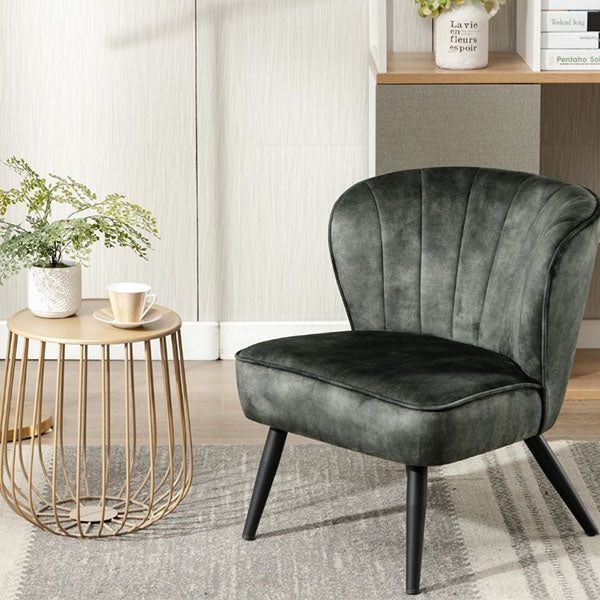 V: Can I Use a Slipper Chair as a Desk Chair?
Modern desk chairs don't have to be bulky, clunky and hideous, too. If you are seeking for something creative to soften the hard lines and liven up your dull home office, a modern slipper chair can be the second-to-none solution. Swap your old traditional desk chair out and revive your working space with a laid-back and carefree feel - "Work Hard, Play Hard" spirit injected. Although modern slipper chairs are always upholstered with comfortable fabrics and flexible foams inside, they are not professionally designed for long hours of working. Stand up and take a rest when you need some break. The ease of getting in and out will also add extra convenience when in use.
VI: Other Places to Situate Your Slipper Chairs: Foyer, Entryway or Veranda
As we mentioned, the versatile slipper chairs can be a statement used everywhere ranging from bedrooms, dressing rooms, living rooms, nursery rooms, dining room and home offices or dens. You'll also love the idea of having a pair of small slipper chairs on your foyer, entryway or veranda. In addition to offering a bit of pizzazz in lifeless corners, small slipper chairs create an instant waiting room, which allows your guests to rest briefly upon arriving and leaving - a comfy spot to slip their shoes on or off.
Final Words:
So, what exactly is a slipper chair? Back then, a vintage slipper chair was for women's bedroom and dressing rooms out of necessity - assistance with putting on footwear. These days, it has become a nifty pick in most living space. Easy to flop into and get out, slipper chairs bring us a comfy spot to relax in. Also easily moved around to change up your seating area with light weight and small size. If you are someone who prefers having small slipper chairs around the house, go check out
duhome.com
and shop from
slipper chairs
in all shapes and materials to spruce your home.