What Color Accent Chairs Go with a White Couch?
Duhome Furniture .
Jan 30, 2023
If you're looking to add a pop of color to your living room, consider introducing an accent chair. You may not know it, but there are several different colors that work well with white couches.
What Color Accent Chairs Go with White Couches?
If you're looking for the perfect accent chair to complement your white couch, these colors are a great place to start:
Pink: The soft color of pink is ideal for any room and can add just enough color without overpowering your space.
Blue: This bold hue will make a statement in any home, especially paired with neutral hues like gray or white.
Green: If you're looking for something vibrant that stands out against a white couch, green is an excellent choice. It's also eye-catching as it pairs well with other vibrant colors and prints such as yellow or purple.
Brown: Warm tones like brown are always an elegant way to complement neutral furniture pieces like white sofas—and they're versatile enough to pair with almost any decorative style from modern to traditional depending on how much woodwork you have in your house (or if there's no woodwork at all). For example, if you have wooden blinds in one room but not another then stick with brown but maybe go darker than usual because of those window treatments.
Pink Accent Chairs
A pink accent chair is a great way to bring some color into your living space. The perfect example of this is the accent chair, which comes in a variety of shades of pink and black. It's available in both modern and classic designs, so you can choose one that fits with your existing furniture or one that will stand out from it! This type of accent chair works well in any room in the house, from an office to a bedroom to an entryway.
If you're looking for something more whimsical, try these fun little chairs that resemble natural shapes like blooming flower or seashell. These are great for kids' rooms or even play areas; they add some whimsy without seeming childish! They also come in many different colors so there will definitely be one (or three) that catch your eye!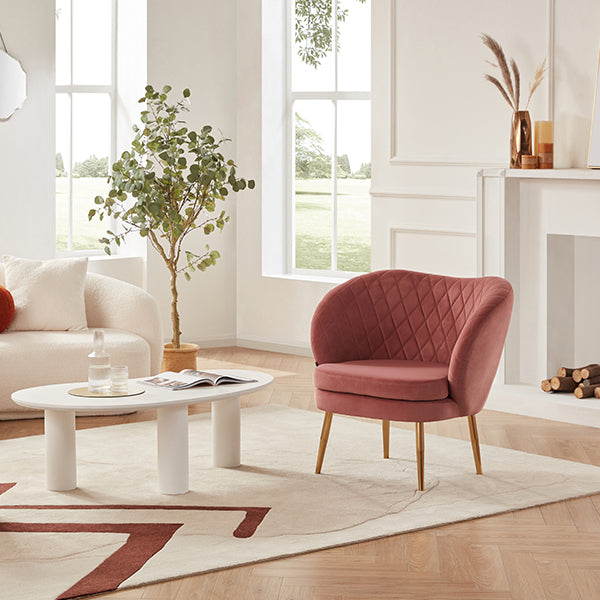 Blue Accent Chairs
Blue accent chairs are a great choice for any couch in this series. Blue is a versatile color that can be paired with many different shades of gray, as well as browns, whites and blacks. Blue is also a great complement to cream-colored sofas!
Gray Velvet Accent Chairs
Gray velvet accent chairs are a great way to add color to any room in your house. They can be used as a chair or as a sofa and they look great with any décor, whether you have a modern, traditional or vintage style.
>>What Is Gray Velvet?
Gray velvet is the fabric used on these chairs. In fact, gray is the fourth most popular color of upholstery fabric in North America! So if you're looking for something bolder than gray linen but not as bright as yellow velvet, gray would be perfect for you!
Green Accent Chairs for Living Room
If you're looking to add a pop of color to your living room, consider green. It's an easy way to bring in some of the feeling of spring without going overboard. A great way to do this is with green accent chairs for living room that come in soft pastels like mint and sage, or bright deeper shades like kelly green or olive. Whether you want something simple or bold, there are plenty of options out there!
Brown Accent Chairs
There are many ways to incorporate brown accent chairs into your home. Brown faux leather accent chairs and microfiber accent chairs can be paired with the white couch, while suede or velvet accent chairs can add a luxe touch. You can also try pairing a brown faux leather chair with the white couch for that extra pop of color!
The most important thing to remember is that there are many different types of chairs that can go well with a white couch. It is best to choose one that matches your style, whether it be classic or modern, and make sure it fits in with the rest of your decor. White color scheme can be very versatile if used correctly so don't be afraid to experiment with different colors!