What are the Basis for Choosing a Suitable Armless Bedroom Chair?
Duhome Furniture .
Nov 08, 2021
1. Choose an armless bedroom chair: evaluate your space and determine the size
A wide range of colors, sizes, and fabrics for
armless bedroom chairs
are available nowadays, which are suitable for different spaces. First, you need to decide which area is best for your new chair. If possible, try placing the chair facing the sun or window. The style is based on the function you intend to use. The chair can be placed in a corner, at the foot of a bed, or next to a dressing table. You have to not only think about where to put the chair but also consider the size of the chair first, imagine what it looks like in the room and how much space it will take up.
2. Choose an armless bedroom chair: choose your style
Choose an armless bedroom chair that fits your aesthetic and design style. For example, the main feature of the accent chair is the inclined backrest and the relaxing design.
If you want your chair to blend with the bedroom style, then you must pay attention to choosing the color. There are many colors for the
armless bedroom chairs
, which can inject vitality into your bedroom decoration. You may fall in love with a certain style of the chair but can't find the right color. Try to choose chairs with multiple colors. The armless bedroom chairs can tie your color schemes together, such as cyan, pink, yellow, and blue. To stay more neutral, you can choose natural elements such as gray, beige, and wood. Even if the color of your room is more neutral, don't be afraid to use other bright colors. For example, the pink armless bedroom chair can change the entire room with one color.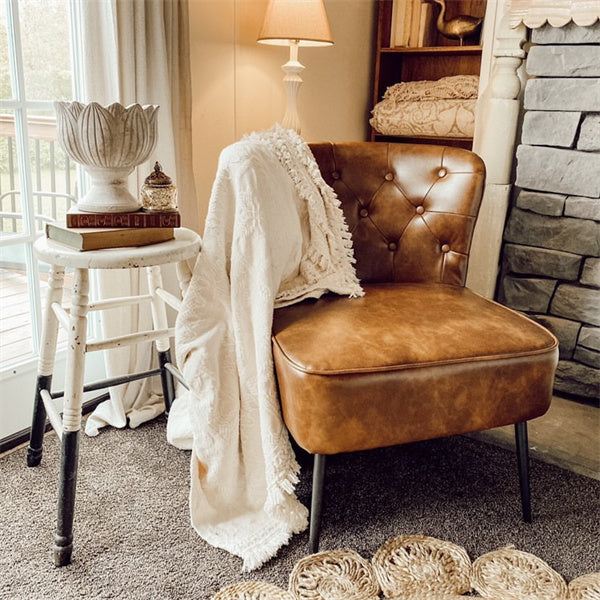 3. Choose an armless bedroom chair: choose your fabric
The armless bedroom chairs are available in velvet, leather, tweed, cotton, and so on. For families and pet owners, it may be worth buying more durable fabrics, such as leather or suede. You must also consider the fabrics already in the bedroom. Different textures and fabrics that complement each other will create a comfortable and stylish haven for you.
If your bedroom has wooden floors, use chairs made of warm materials such as tweed or cotton to make the room more attractive. There is no doubt that velvet is the current key chair fabric. Plush and various colors mean it is a winner in our eyes. If your room is already very elegant, velvet can bring a smooth and soft feeling to the room.
The
armless bedroom chair
is more than just a chair, and it has many other functions and can completely connect the design of your bedroom. By following these simple rules, choosing the right armless bedroom chair will be much easier, and it will soon become a necessity in your home.