Kitchen Island with Seating is a Perfect Idea for Family
Duhome Furniture .
Mar 22, 2022
Why a kitchen island with counter/bar stools is necessary in redesigned kitchens? It's pretty easy to find out the answer! By dividing the kitchen layout, the island involves an cooking area and living area and runs directly to the workplace.
A kitchen island with counter/bar stools is typically characterized by cantilevered kitchen counters supported by table legs, 12- to 19-inch-deep breakfast bar overhangs or table-style extensions. Regardless of whether the island is bar- or table-height, seating should be located on the outer perimeter of the island so that those seated can enjoy the meal without getting in the way of the chef.
The seating capacity of an island lies in the size of the island, the other functions it has to accommodate, and its location within the working triangle. Regardless of the layout, however, there are some basic dimensions to consider when designing kitchen island seating.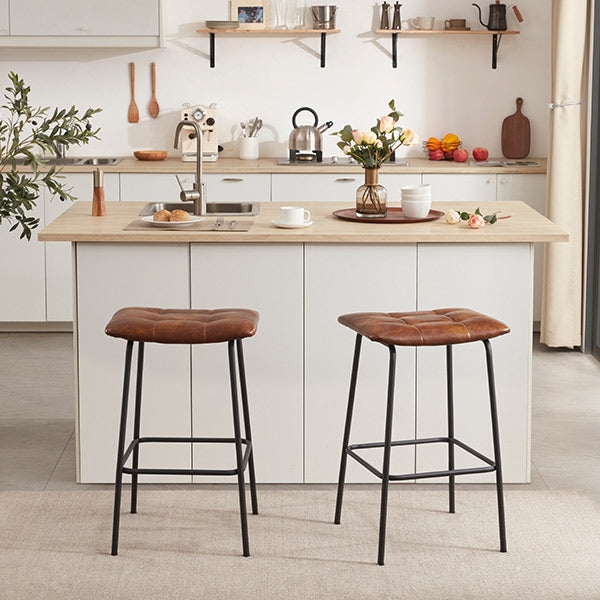 Duhome New Counter Stool | Stay Tuned!
Ⅰ. Tips for designing a kitchen island with counter/bar stools
Aisles on either side of the island should be at least 42 inches wide to make sure normal traffic across the island. 48-inch width is preferred when two chefs are working in the space at the same time.
When designing an island with counter/bar stools, consider whether you want an uninterrupted span of countertops, or a multi-level island for managing different tasks. Consider placing a tall breakfast bar countertop to block the view of the culinary clutter spread across the drop-down countertop. You can also place a lower or higher additional table on the outer end of the island. Add interest by visually distinguishing one layer from the other with different finishes or countertop surfaces.
Choose a seat that is suitable for island height and allows at least 12 inches to put the knees. Bar stools fit breakfast bars 41 to 43 inches high, and counter stools work with standard 35 to 39 inch high island tops. Low stools and dining chairs are located under the counter (30 inches) at table height.
The National Kitchen and Bath Association recommends reserving enough space for the elbow. For example, every diner sitting at a table or counter that is 30 inches high needs a space that is 30 inches wide x 19 inches deep. A seat on a 36-inch high countertop requires 24 inches wide x 15 inches deep; a person sitting beside a 42 inches high counter requires a space 24 inches wide and 12 inches deep.
Ⅱ. The idea of kitchen islands with counter/bar stools
A removable or built-in island of almost any size can handle at least a stool or two, as long as it has an overhang or a kneehole. When designing an island, don't be confined to the rectangular shape, think about the round, L-shaped, and square versions with high-interest silhouettes, which can offer plenty of practicality.
Worktop islands often provide seating space at the ends, allowing the longer sides to be used by the chef, while the central section can be used to store or use appliances. If the area around the island is limited, choose low-slung stools that can be tucked under the tabletop and won't hinder the traffic. Backless stools in bright colors like bright yellow or turquoise provide a fashionable style without occupying too much space.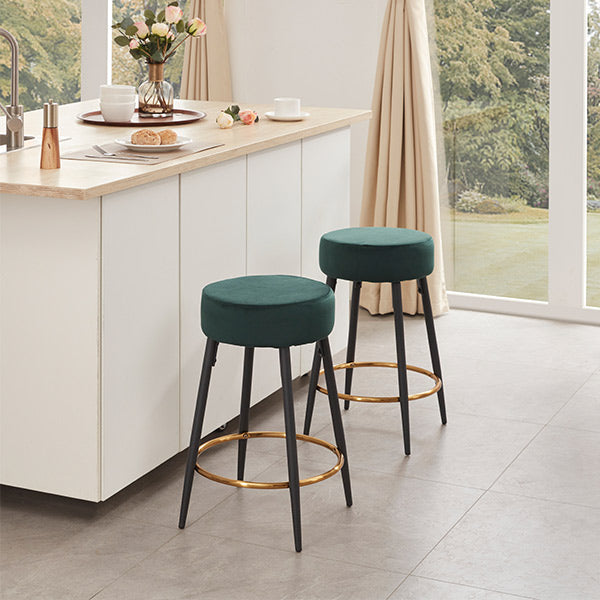 A breakfast bar that curves outwards provides more seating space than a straight breakfast bar. The unique shape of this island allows for seating on both sides, while areas close to the range are ideal for preparing the food. On the other end are two cabinet doors that can be opened to store seasonal cutlery and other items that are not commonly used.

Some larger islands flaunt overhangs or breakfast bars on 2 outer sides, which allow a great range of visitors to bring seats around the task terminal. Numerous other island styles separate cooking and likewise conversation: The major island takes care of cooking location tasks while a round, square, or rectangle-shaped design provides tablelike seats, with chairs and stools placed on 3 sides.

No matter which type you choose, make sure each member of your family has an island seat and they could get easy access to seating in the kitchen through various doors. For kitchens that connect to another room, it often makes sense to place an island seating area on the open side. This makes it easy to use a stool or chair when you walk into the room and face the kitchen directly.