How to Select Luxury Dining Room Chairs?
Duhome Furniture .
Sep 21, 2023
In the dining room, it is necessary to have the right dining chairs to add a dash of glitter to the allocated eating space. In addition, if you're looking to buy dining chairs, you'll want to consider which of the numerous quality, styles, materials, and brands is the best fit for your needs.
Here are some things to bear in mind while choosing the ideal dining chair for your needs:
A Dining Chair with the Correct Scale
Take measurements of your dining room and the space surrounding it to determine the kind of dining chair you want to buy and the number of chairs that will fit there. When shopping for dining chairs, take into consideration the height of your table.
Armchairs or Armless Chairs
Think about whether or not the dining chairs you're looking at need armrests. To help you make a selection, consider the amount of space in your dining room and how it is designed. Armchairs or chairs without arms? The biggest advantage of adopting armless dining chairs is that they take up less space both visually and physically than a chair with arms.
Dining Chair Style
Before you choose the luxury dining room chairs, consider the style you're going for. First, decide if you want your chair to seem formal or informal. You may pick chairs with either an open or closed back, depending on your preferences. Metal, wood, and acrylic are all common materials for chairs with solid backs.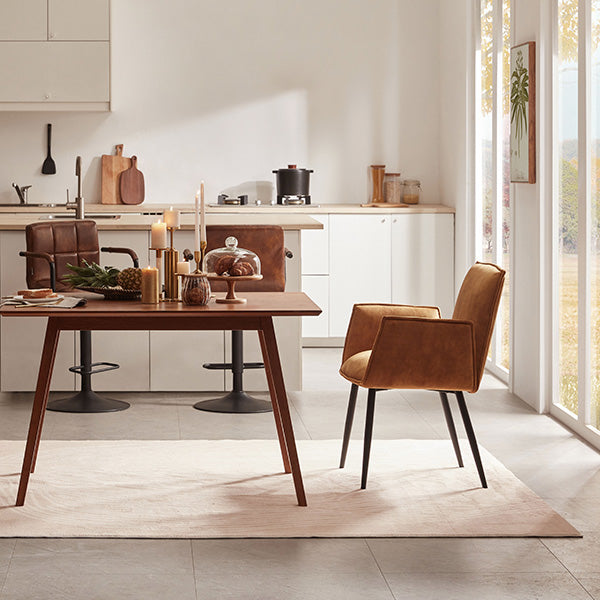 Offering a Comfortable Seating Experience
Make sure the seat of the dining chair you are contemplating buying is wide enough and comfortable enough for you to sit comfortably on. Make sure your chair's back feels comfortable when you lean against it, and that the seat isn't too high or too low. Ensure that there is enough padding underneath the upholstery to keep you from feeling the frame. As a result, it is essential that you choose a chair that offers you with the maximum amount of comfort.
Approved Resources
You should select a suitable material for your dining chair, since it is responsible for both its look and the way it feels. An ideal material for chairs is one that can withstand severe weather conditions and does not wear out soon; power coated steel is an example of this. A power coated chair may be paired with a wooden table as a visual contrast. Many styles and finishes are available to choose from when purchasing a wooden chair.
Upholstered dining chairs
are a great option since they look great and feature plush cushioned seats. Wooden dining chairs are another choice.
The Chairs in the Dining Room: A Look at the Build Quality
Quality dining chairs should always be your top priority when looking for dining chairs near me. You may test the chair's structural integrity by shaking and repositioning it in various configurations. Make sure that the legs, arms, and back are not swaying, and that the seat is comfortable enough for you to sit on. There should be no glue used to create a chair that has a wood seat since the seat should be one solid piece.
Examine the chair's surface with your hand to see whether there are any splinters or rips in it, or if it is completely smooth. If you're looking to buy an antique or vintage chair, check to see that it's built well and that its back legs can be adjusted for height. The weight of an adult should also be checked to make sure there are no difficulties in carrying it.