How to Make an Electric Chair to "Shock" Guests? - Halloween Props
Duhome Furniture .
Aug 17, 2022
Halloween is creeping to a door near you! Are you guys ready for the fright? Or got any Halloween plans? Wanna hang up spooky lights as you did last year? Put in terrible fangs? Anything else? Fear not if you still need some inspiration, we've got you covered with a creative way to help you quickly get into the Halloween spirit. Whether you're pro or con on the death penalty issue, there's nothing scarier for your guests than an actual execution of a condemned criminal in your own home! Yep, you don't guess wrong, let's start with an electric chair as your Halloween prop this year.
If you've spent some time doing Internet searches for "Halloween Prop Electric Chairs", you may get a dropped jaw finding they're sold at the incredibly high prices ranging from $299 to $2999 (with animatronics). Even though Halloween is a big day, it doesn't mean that you need to spend a world to celebrate it! Making the electric chair on your own is often the fun part. Wait no more to try this idea out at your house to make you the host with the most.
Materials & Equipment List
A Simple Wood Chair

: Choose a quintessential wood chair with/without armrests as you like, if you want your guests to feel more "Death Row Inmate" scare, or pick an oh-so-comfy chair instead to make the striking contrast - one minute they're resting on the cloud, the next falling into the abyss of horror;
Brain Electrode: Includes an old plastic colander, black paint, an extension cord with 1 meter reserved for the cap, battery operated red LED lights, and hot glue gun;
Wood Frame: A sturdy wooden frame to hold the Halloween electric chair prop, you'll also need two vertical splats and four coasters to keep chair legs in their place;
Stone-Textured Wall: Plastic stone wall wrap, bull dog clips, and black fabric for the top;
Arm and Leg Restraints: Wrap the guests' arms and legs around to let horror never end;
Two Strobe Lights & Electricity Crackling: Emulate electric shock with flashing light and sound to enhance the realness of the DIY Halloween electric chair;
Electric Danger Animated Device: A must-have to show off some power of "electricity";
Some Other Horror-Themed Decors: An electric chair photo booth sign, dark-toned velvet at the front entrance, some carrion birds and whatever comes to your mind.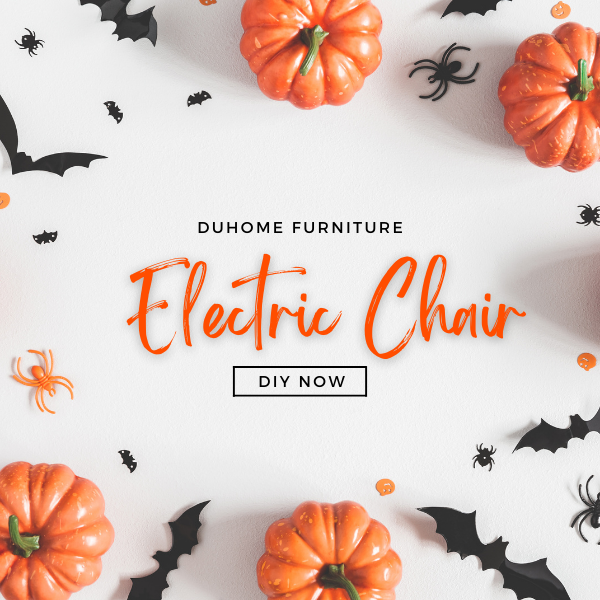 6 Easy Steps to Own Your DIY Halloween Chair to Frighten the Trick or Treaters this Holiday Season!Step 1: Build the Brain Electrode of this Electrocution Chair Halloween Prop
This may be the most complicated step that will take you some time assembling. Be patient and let's get started!
First of all, paint your old colander all over with black paint, repeat it until the desired color is achieved.
What we should do next is to find a way to attach this brain cap to the top of the locked room. But how? Use the wire! Remove the plastic cover of the extension cord firstly.
Then push the red LEDs through the holes in your black colander and secure with a hot glue gun, also keep the light battery in place using the twisted wire. Remember to paint all parts in black to inject tricky darkness.
Leave the extension cord loosely attached, so that the victim can experience the horror of "electric shock" whether he/she is short or tall, rather than back pain caused by slouching on the electric chair.
Step 2: Black-Painted Pallet Frame with Coasters for Electric Chair Legs
Now we'll need a wood frame to mimic the locked room space. Find a common pallet and spray painted it black, too. Make the electric chair stay in place using coasters on two vertical splats screwed to the pallet.
Step 3: Distressed Stone Wall in "This Locked Room"
Add some plastic stone wall wrap and a black fabric top for a distressed and natural look. Secure with large bull dog clips.
Step 4: Scary Halloween Chair with Arm and Leg Restraints
Place the
wood chair
in the "locked room". Fasten the legs with coasters, and you can DIY the arm and leg restraints with some wide belts. Imagine a man or woman tied up in a chair Halloween. Can he/she escape finally? Let's stay tuned!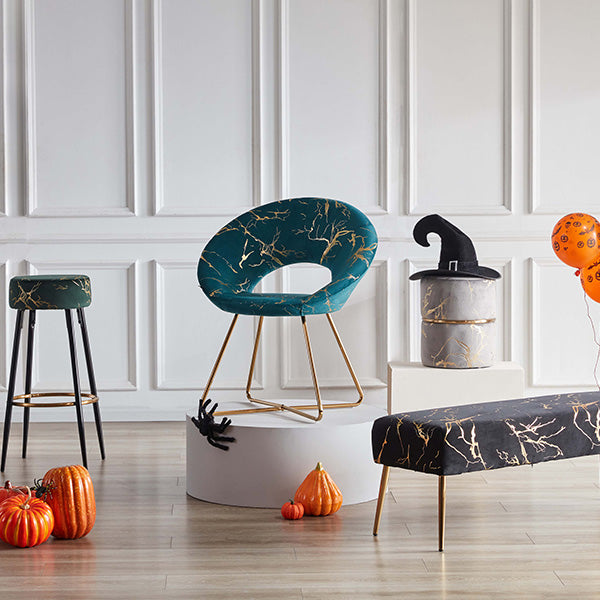 Step 5: Invite Lights and Electricity Crackling
Attach two strobe lights to the top of the frame with more bull dog clips, and let them lights alternate between on and off - strobing or flashing to make it feel like an intensive electric-shock from the Halloween chair prop. And of course, you can add in a sound track of electricity crackling via your cellphone or iPad to upgrade the realness to the next.
Step 6: Finishing Touch
Last but not least, let your creativity flow. An electric chair photo booth sign is necessary. And what about a dark-toned velvet at the front entrance? Some carrion birds? Classy skull decor? Yeah! Everything for an original scary adventure is welcomed.
Final Words:
Feel free to put your DIY skills to the test with this homemade electric chair Halloween prop. But please note this is only a Halloween prop not intended for use as an actual restraint for any reason.
Duhome Furniture
holds no liability for the misuse of the prop. We hope all of you a happy and safe Halloween ahead.