Advice on How to Choose Wood Dining Room Sets for Sale
Duhome Furniture .
Aug 09, 2022
The dining table, frequently in the centre of the room, is a need in any home since it is where the family gathers to dine. When we gather around a solid wood dining table surrounded by comfortable dining chairs to have a hearty meal with loved ones, there is something inherently comforting about the experience.
Sitting at a Solid Wood Table Has Several Advantages
The inherent beauty, warmth, and character of a solid wood dining table cannot be matched by any other piece of furniture in terms of visual appeal. There is no choice except to accept this outcome. The king of furniture is undeniably wood despite the current rise in popularity of steel, aluminium, and glass, which are all contemporary or modern.
These are some of the advantages of solid wood furniture, including the everlasting qualities and ageless look and feel of the material. In addition to dining tables, these benefits also apply to the chairs that go with them.
Durable and Strong, an Excellent Choice for Dining
Solid wood dining tables and other furniture may be incredibly long-lasting and need just a little amount of maintenance. It is a durable material that can withstand daily use and abuse. It can be restored to its former lustre and continue to serve its function for many years to come, even if it has been damaged or discoloured. Before choosing one for your dining room, have a look at
wood dining room sets
for sale online and check the variety.
Even If You Do Your Best, It's Easy to Fall Behind
In order to maintain the attractiveness of solid wood surfaces such as the seats of dining chairs, occasional cleaning with a wood cleaner is necessary. There are several places where this is particularly true, such as the seats of dining chairs.
However, the potential for utilizing an excessive quantity of water should be considered. As much as possible, keep water away from your hardwood furniture as long as feasible.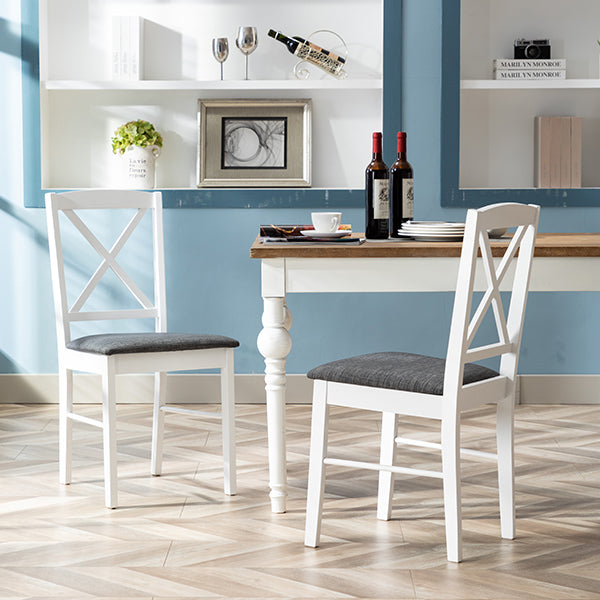 Always Dependable, It Has Endured the Test of Time
When designing a home or workspace, solid wood furniture may often be the centrepiece. For this reason, wood has a timeless aspect that, due to its innate elegance, may radically modify the look and feel of a room.
A Guide on How to Properly Care for and Preserve Wood Furniture
Make Sure It Just Gets a Little Bit of Sunshine
Spotting, which appears as dark spots on the wood's surface, may occur when wooden furniture is exposed to direct sunlight for a prolonged length of time. In order to prevent this from occurring, you should also cover the area with a tablecloth.
Maintain a Temperature that is Safe for Your Home's Furniture
It is imperative that you avoid anything that may come into contact with your hardwood furniture at a high temperature. It is possible for chemicals that are either highly hot or extremely cold to leave impressions and distortions on the surface of solid wood furniture.
Make Sure that the Wood in Your Furniture Ages Properly
One of the best things about furniture made of real wood is how beautifully it ages over time. You should bear this in mind while purchasing for wooden furniture, for example, since its colour may change over time.
It's Important to Keep Up the Hard Work
Oil and wax treatments are often used to preserve wood furniture, but the precise materials you use will depend on the kind of wood you have. A layer of protective coating applied to the surface of your wood furniture may extend the life of the finish and keep it looking its best at all times.