Accent Chairs: A Cheaper Alternative to a Recliner?
Duhome Furniture .
May 14, 2023
Accent chairs
are a great way to add extra seating and style to your home. Accent chairs can be used in almost any room, from the living room to the bedroom, making them a versatile addition to your home. Accents chairs also provide a soft place for you or a guest to sit during social activities and at dinner parties. If you don't have enough money for an entire recliner set, or if you're looking for something more stylish, look no further than accent chairs!
Barrel Chairs are a Versatile Option for Extra Seating
If you're looking for an accent chair that can be used in a variety of different rooms, barrel chairs are a great option. They can be used as an accent chair or dining chair in the living room and dining room, or even as an extra seat at your bedside. The versatility makes them ideal for any home!
Side Chairs are a Dependable Choice for Casual Seating
Side chairs are a good choice for casual seating. These pieces offer good value for money and can be used in a variety of settings, from the dining room to the living room or even as accent chairs. They're also easy to move around and store when not in use, making them ideal for small apartments or homes with limited space.
An Armchair is Great for a Cozy, Intimate Space
An armchair can be used as an accent chair or dining room chair, but the best part about it is that it's so cozy! The curved back and arms create a cocoon-like feeling that encourages relaxation. An armchair can also be more comfortable than other chairs, because you can sink into its plush cushions and lean back as far as you want without feeling like there's no support behind you. This makes them perfect for reading or watching TV in front of your fireplace (or wherever else your imagination takes you).
Slipper Chairs are Perfect for a Smaller Space or as an Accent Chair
If your living room is on the smaller side, or if you just want to add a touch of color to the space without taking up too much room, slipper chairs are a great option. As an accent chair that can be tucked into a corner or against a wall, they're often less expensive than recliners and can be found in many different styles and colors. For example, this adorable pink velvet slipper chair features rolled backrest and decorative buttons - beautiful details that make it stand out from other similar pieces!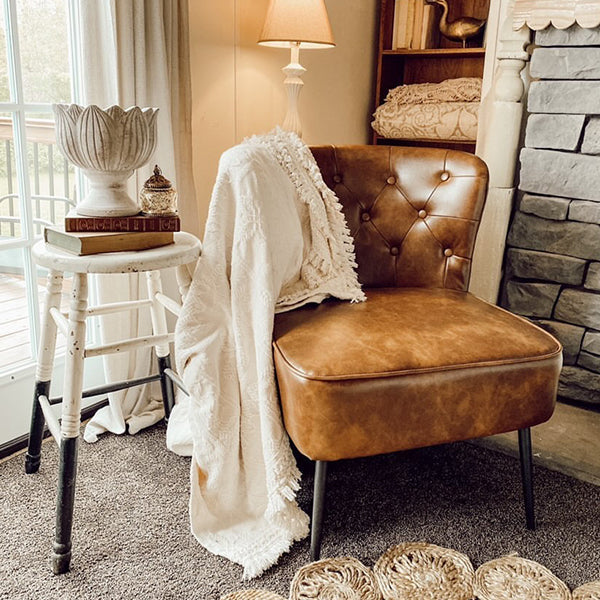 Parson Style Chairs can be Used as Dining Room Chairs or Accent Chairs
Parson style chairs are a classic, and for good reason. They're comfortable, versatile and can be used in just about any room of the house. They look great as dining room chairs or accent chairs in your living room or family room. If you want something that will last for years to come but still have some style to it, parson chairs are an excellent choice!
Wingback Chairs are Great for Comfortable Reading in a Cozy Spot
Wingback chairs are a classic style that can be used both as accent chairs and dining room chairs. They're also great for relaxing in, whether you're reading a book or watching TV. If you have the space for it, these chairs are worth considering over recliners; they'll cost you less money and look more elegant in your home - and they're just as comfortable!
Wingback chairs come in many different shapes and sizes; some even have armrests on both sides of the seat. You could use one like this as an alternative to a recliner, if you don't have much space in your living room or bedroom (though most people opt for wingbacks when they want extra comfort).
You Don't Have to Spend a Ton of Money to Find Good Furniture
Whether you're looking for furniture that suits your style and budget, or just want to replace an old piece of furniture with something new and fresh, you don't have to spend a ton of money. There are plenty of options available at every price point. You can find good quality pieces at any price range, so don't let finances be the only deciding factor when choosing where to shop!
We hope this list has helped you to find the perfect accent chair for your home. Accent chairs are a great way to add style, comfort and functionality to any room in your house. They're also much cheaper than recliners or sofas! We know there are plenty of other options out there as well - please let us know if there are any other types of chairs that we missed in our research, so we can add them here.