9 Simple Kitchen Island Ideas You'll Love
Duhome Furniture .
Sep 26, 2022
Kitchen islands can be a great way to add extra seating and storage space to your kitchen. But what if you don't have the right bar stools to fit your space? Here are nine ideas that will help you find the perfect kitchen island for your space.
Brass Bar Stools
Brass bar stools are a great choice for your kitchen island. They're classic, stylish and easy to clean. Your brass bar stools will be a durable material that will last you years, so you'll be able to use them in multiple rooms in your home as well!
Wood Bar Stools
Roll up your sleeves and get ready to transform those tired bar stools that have been sitting around gathering dust for far too long. Wood is one of the most popular finishes in kitchen islands, so if you're looking for something that fits with a rustic or modern aesthetic, this is an easy choice. It comes in an array of finishes that can be customized to fit any kitchen or style.
Wood bar stools are also very sturdy and durable—so they won't collapse when you sit on them! They're easy to clean too: just wipe them down with a cloth or sponge once per week (or more often if you're using them regularly). You can even reupholster these beauties, if they start looking worn out after years of use. Just make sure your upholsterer knows what kind of material he or she will have to work with before ordering new fabric pieces. If all else fails, replace 'em!
Upholstered Bar Stools
Upholstered bar stools are a great addition to any kitchen island. These stools are comfortable, stylish, and can be found in a variety of colors and styles. They also come in a wide range of fabrics, including faux leather, microfiber, and fabric blends. So if you're looking for a bar stool that fits your personality or home decor style—and could use some extra comfort while cooking—
upholstered bar stools
are an excellent option!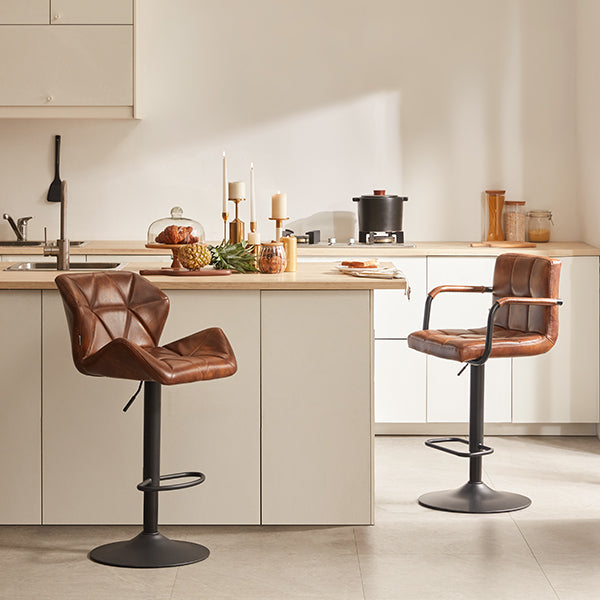 Faux Leather Bar Stools
If you're looking for a way to add some luxury to your kitchen, faux leather bar stools are an excellent option. They're easy to clean and come in a wide variety of colors and styles. You can find them for less than $300 a piece, though the price will go up if you want something fancier (and more expensive).
This is one of my favorite types of island furniture, because it's both functional and stylish. The faux leather material is easy on the eyes, while also being durable enough to last for years without showing any signs of wear or tear.
Beaded Chandelier over Island with Seating
A bead chandelier is a great way to add a warm, cozy feel to your kitchen island. You could do this with any standard ceiling-hung light fixture, but the spherical shape of the beads makes it look like something that belongs in an entirely different room—like a dining room or living room. The colors and materials you choose for this type of lighting can also make all the difference in how it looks and feels in your kitchen.
Of course, you need more than just one light fixture over your island; otherwise, everything will be dark! Make sure there's at least one table lamp on each side that can provide enough illumination when it comes time for dinner or dessert prep after dinner.
The chairs that go with this kind of setup are known as bar stools (or sometimes called counter stools). They usually have backrests made from metal tubing, along with seats made out of cushions covered by fabric or faux leather upholstery—and they're often
swivel adjustable bar stools
that can fit anyone from tall people down to children under ten years old, who might want to sit at their own special little bar stool!
Vintage-Inspired Kitchen Island with Seating
A vintage-inspired kitchen island with seating will allow you to keep your kitchen organized, but also give it a new look. The idea of using bar stools or even an old table as part of the island is a great way to keep up with the theme, while still having plenty of space for cooking and preparing food. If you go this route, make sure that it's sturdy enough to support all kinds of items—from pots and pans to plates full of baked goods!
Kitchen Islands that are Open to the Room
You may be wondering: What is an open-concept kitchen? An open-concept kitchen is a design that's completely free of walls, creating one large room. The floor plan has no doorways or baseboards to restrict movement between the kitchen and other parts of your home. You'll find that some of the best designs are sleek and modern, while others have a more rustic feel. Whether you're looking for ideas on how to decorate an existing space or want to start from scratch, here are some great tips for designing your own dream kitchen!
Matching Pendants Over the Island and Dining Table
Pendants are a fun way to add light to a space. If you have an island, consider hanging matching pendants over it and the dining table for a cohesive look—it's like one large piece of furniture! You can do this in two ways:
Hang matching pendants directly over where you want them. This will give your kitchen a cool, industrial vibe and make it feel very open. These types of lamps tend to be more expensive than others, because they require special hardware and installation costs can be higher as well (depending on how much work needs done).
Hang the pendant over the dining room table instead of above your countertop island. This is a less expensive option that still gives both spaces an airy feel, while tying them together with complementary lighting fixtures.
U-shaped Kitchen Island with Dining Nook and Additional Seating
A U-shaped kitchen island is a great way to add seating in an open kitchen. These islands are versatile and can be used for more than just food prep. If you're not sure where to start, try adding a breakfast bar to your island or create a dining area that seats four people comfortably. If you want your kitchen island to serve as both an eating and cooking space, consider using stools instead of chairs, so guests can sit at countertops that are equal height to their waistlines if they need extra support while sitting down.
This type of design works well if you don't have room for separate tables or counters next to each other while still wanting guests around while cooking—you can use one surface as both!
Find the Right Bar for Your Space
Think about the size of your space. Do you have a small kitchen nook or large island dead space? If so, consider how much room you really need. For example, if your cooking zone is right in the center of your home and you don't have a lot of counterspace, then perhaps buying an island that can be easily moved around would work best for you.
Consider the height of the bar and whether it's meant to be a permanent fixture. If you're planning on building one from scratch or working with a contractor to create one for yourself, it's important to know how high off of the ground (and hence from what level), this table will end up being placed in relation to where people are going use it most frequently — usually at eye-level when seated at a chair nearby.
Decide whether or not there should be seats included within this new addition; if so, then plan accordingly! It might seem silly, but sometimes people forget things like this which results in needing more materials - more money spent overall; something no one wants!
Conclusion
Good luck with your kitchen island! We hope that these 9 ideas have helped you get started on the right track. If there's anything else we can do, don't hesitate to reach out or leave a comment below!