8 Creative Uses for Round Ottoman Furniture
Duhome Furniture .
Feb 06, 2023
Introduction
Round ottomans are a great way to add extra seating or a table to your home. They're also versatile enough that you can use them in various rooms of your house. So if you need a new coffee table, footrest or bench - or even something to put your feet up on while reading a book - check out these creative uses for round ottomans:
1) As a Coffee Table
Use a small round ottoman coffee table to hold snacks, drinks, or books, magazines and remote controls.
2) As a Footrest
Round ottomans are perfect for use as footrests in so many places. Use the ottoman foot stool to prop up your feet while watching TV. Use it in the bedroom or living room to rest your feet after a long day at work or school. Even if you're cooking dinner, use the round
ottoman foot stool
to prop up your feet while you chop vegetables! The round shape of this ottoman foot stool means that it will fit in any space with ease - whether that's on an entryway table or tucked under a kitchen island bench.
3) As Additional Living Room Seating
Round ottomans can be used as additional living room seating. They provide additional space for your guests to sit and take off their shoes, especially when hosting large gatherings. If you're looking for something more versatile than a regular table or chair, this is an excellent choice!
You can also use them as footrests if you want to relax after a long day of work or play. They're not just for decoration; round ottoman foot stools come in handy when you need somewhere comfortable to rest your tired feet after a long day at the office. If you don't have enough space on coffee tables, because they're already full of books and magazines, try using round ottoman foot stools instead! The shape lets them fit easily into small corners where other furniture would not fit at all.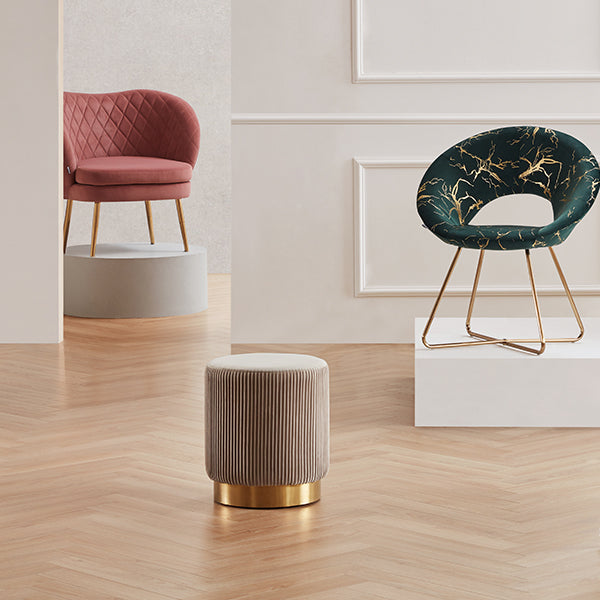 4) As a Bench for a Bedroom or Entryway
Round entryway ottoman can be used as a bench in your bedroom or entryway. You will also find the entryway ottomans useful if you want to sit down while putting on or taking off your shoes.
5) In Lieu of a Nightstand in the Bedroom
In a bedroom, the round bedroom ottoman is a great place to set your drink or book down. Its round shape is not only cute but also useful. You can even use it as a nightstand, using one side of the
bedroom ottoman
to hold your glass of water, and the other side for placing any other items you need for nighttime reading or writing in bed (like a phone). Round bedroom ottoman furniture gives you multiple options for how to use them in your home!
6) As an Extra Perch in the Dining Room
If you're looking to add more seating in your dining room, a large round ottoman is a great option. You can use it as an extra chair or even as a footrest for guests who aren't seated at the table. If you want to go all out, you can even use it as a coffee table since they look great with glass tops! Round ottomans are also great - because they come in so many different sizes and colors, meaning that there's one out there for every space (and every style).
7) As a Kids Table
If you have a playroom, a bedroom or even a kitchen area where your kids like to hang out, a small table ottoman can be used as a table. You can easily turn such a piece of furniture into something that serves multiple purposes by using it as an end table or coffee table in the living room or bedroom. Even if you don't have any room for these types of furnishings, you could use it as a footrest while watching TV. The possibilities are endless!
8) Beside the Bathtub, Filled with Towels
You know how you stand in your bathroom after taking a shower and your towel is nowhere to be found? Round bathroom ottomans are the perfect solution for this problem. They can act as a drying rack, keeping your bathroom floor dry and preventing mold from forming on the surface of the floor. You can also use them to organize all of your other towels into neat piles, making it super easy to find what you need when it's time to get dressed. Plus, having everything organized makes your bathroom look nice.
Furthermore, round bathroom ottomans make great catchalls for little things that tend to clutter up our bathrooms: shampoo bottles, conditioner bottles (if they don't have lids), toothbrushes/toothpaste tubes/mouthwash bottles etc., plus anything else that doesn't belong in its own special place but still needs its own special designated spot - like razors or nail clippers!
Versatile Round Ottomans Used All Throughout Your Home
Round ottomans are versatile and can be used all throughout your home. They're great for extra seating and decor. You can use them as coffee tables, footrests and benches or even in the kitchen to dress up your dining room table or countertop. Round ottomans also make great nightstands if you don't have enough space for a traditional bedside table!
Conclusion
Round ottomans are a great way to add extra seating, storage and style to your home. They don't take up much space, but they can be used for so many purposes! We hope you enjoyed these ideas for how to use round ottomans in your own home and found some inspiration for making the most out of this versatile piece of furniture.