7 Steps to Clean Food Stains on Velvet Furniture
Duhome Furniture .
Jun 20, 2022
How to Choose Your Velvet Occasional Chairs?
A wide range of velvet occasional chairs are available nowadays. How to pick your fave? It's totally up to you, and also, other furniture in your own space. When choosing the "it" color of your velvet occasional chairs, you'll have two hues for selection, the diverse and charming one, or soft and neutral one. Go ahead to buy those velvet occasional chairs in rich hues like golden, emerald or royal blue, when the rest of your room is decorated with neutrals. Believe it or not, it'll look fabulous and go well with black, white and golden color scheme. Moreover, you should not miss the velvet occasional chairs in pink, mint green and light blue, which are soft and elegant, adding a sense of grace to re-freshen and invigorate your room.
The Right Way to Clean Food Stains on Your Velvet Occasional Chairs!
However, as pesky as the chewing gum stuck in the hair, food stains on the velvet furniture can be a headache, too. While velvet-upholstered chairs bring a touch of luxe and grace to your home interiors, those
velvet occasional chairs
are also easy to suffer from food and drink spills especially when placed under the table or in the dining room.
Keeping the velvet dining chairs clean can be exhausting - sauce-drenched ribs to crumb cake with chocolate sauce, you cannot imagine what a disaster it would be when the party's over during the holiday rush, family get-togethers or festivals. Are there any good ways to clean the stained finicky velvet efficiently? Prepare what you'll need in the stain-removal process, follow the easy steps below and you'll see!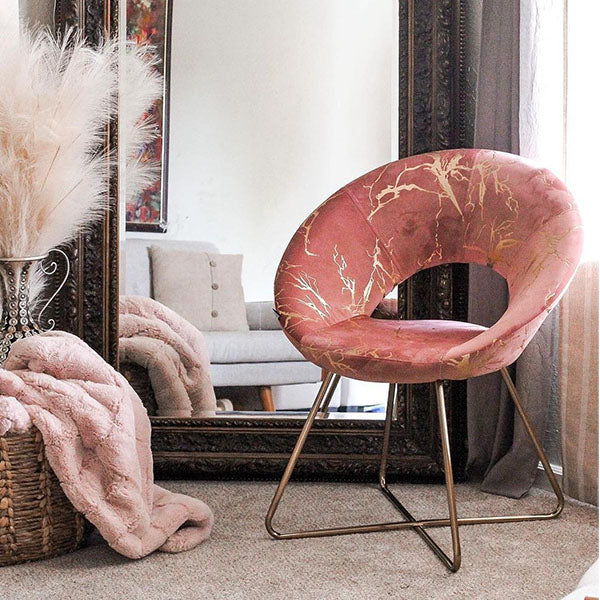 Materials Needed:
Vacuum cleaner
Soft brush
White absorbent cloth
Soap and water or an upholstery cleaner
Step 1: Vacuum the Fabric
Use a vacuum cleaner with an upholstery brush. A brush is ideal for loosening surface dirt on the velvet chair seats, while the vacuum cleaner is the answer to trap extremely small food particles. Please note that: "do not vacuum any liquids and sticky spills", which may cause an electric shock.
Step 2: Make Suds with Dish Soap
Prepare some warm water, then add a few drops of dish soap to make suds to tackle tough stains, including grease. Dish soap is what works best to help fight unwanted, set-in food-type messes. And remember the fact: the sooner you treat the stain, the better.
Step 3: Use a White Cloth
To avoid color bleeding to the velvet, use a white yet soft cloth. Wet it in the dish-soap water and wring it out. Take a test of color fastness on the inconspicuous area - the excess part under the velvet chair.
If the color holds, go on dabbing. Wipe it back and forth when the stain could not lift. But be careful - soak up some of the wetness ASAP with a white dry cloth to prevent the velvet getting over-wet.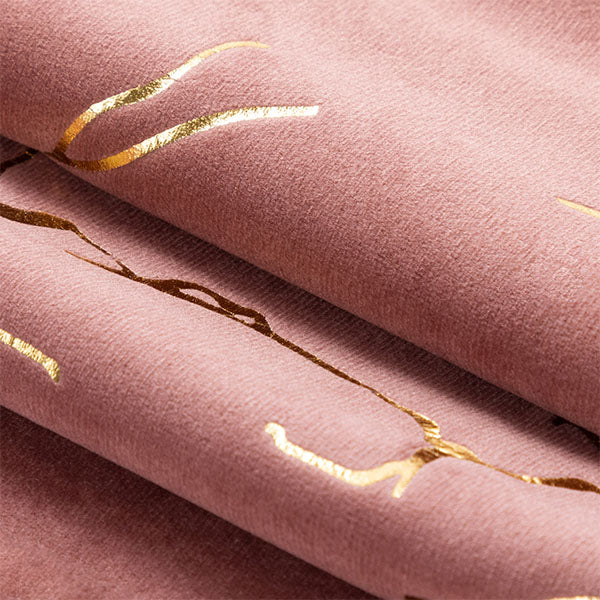 Step 4: Repeat Dabbing or Wiping
Dampen the cloth with clean water, and then the suds. Dry it, and dab or wipe the velvet upholstery repeatedly until satisfied. Use a nylon-bristle brush when some stains are too stubborn to tackle with. But do brush the velvet in the nap's direction to keep it lift.

Step 5: Dilute the Soapiness
Use a soft and relatively dry cloth that's been soaked in clean warm water. Gradually dilute some of the soapiness by wiping the cleaned areas again and again.

Step 6: Dry the Velvet Upholstery
Leave the velvet upholstery to air dry, or use a fan, or hairdryer on low heat mode to blow it dry more quickly.

Step 7: Brush the Fabric
Apply a velvet brush or soft-bristle hairbrush to gently brush the nap into the correct direction, ensuring the fibers are not flattened or stiffened.
Final Word
Good news! You've almost done. Velvet is always known for being high-maintenance, if you're too busy to tackle with the stain daily, or you're not someone who has chose to embrace cons of velvet furniture, Duhome still gets you covered with a selection of easy-to-clean chairs.
Click
to find more.