7 Reasons to Put a Bench at the End of the Bed
Duhome Furniture .
Jul 03, 2022
Introduction
There are a lot of details to consider when decorating your bedroom - color palette, theme, the perfect bed frame. But one thing that is often overlooked is the end-of-bed bench. Usually a bench at the end of the bed is seen as more functional than fancy, but it can also be a great opportunity for some stylish flair. Whether you use it for storage or as an additional seating area, here are seven reasons you should consider adding an end-of-bed bench to your bedroom:
Benches are Great for Resting
The bench at the end of your bed is a great place to sit and rest. It's also a good place to sit when putting on your shoes, socks and jacket.
Benches Offer Extra Seating
If you have a large bed and are looking for extra seating, look no further. A bench at the foot of your bed provides extra seating for guests, children and parents alike. Even the grandparents can enjoy sitting down to read a book while waiting for their grandchild to wake up from his nap. The pets can even join in on the fun, because they love being near their owners when they sleep soundly on top of them!
Plus, if you have dogs or cats who are prone to jumping off furniture at inappropriate times (i.e., right when your significant other wants to cuddle), putting a bench at the end of your bed will prevent them from doing so, because there's nowhere else for them to land!
Benches Boost Your Style
A bench can be made from a variety of materials, including wood and steel. It is a statement piece of furniture that can be used to store things, display items or even serve as a place to sit or rest your feet. You can also use it as a nightstand or even turn it into two individual beds by adding another one on top!
Benches Provide a Safe Place to Stash Things
A bench at the end of your bed is a great place to store things that you need close by, but don't want to see. This includes clothes, shoes and blankets - anything that might be needed in an emergency or just
when you're getting ready for bed. Having these items out of sight can also help keep your room looking cleaner and more organized.
Benches Create an Anchor in The Room
●You can use it as a place to sit while getting dressed, or put on shoes and socks.
●It's a space-saving solution for storing clothes that you wear frequently, like pajamas or workout gear.
●Choose a bench with storage space underneath, so you can keep things like extra pillows and sheets there.
Benches Can Be Stood on When Making Bed
●It can be stood on when making the bed.
●It can be stood on when putting on shoes.
●It can be stood on to get dressed in the morning and to stand up after getting dressed in the morning.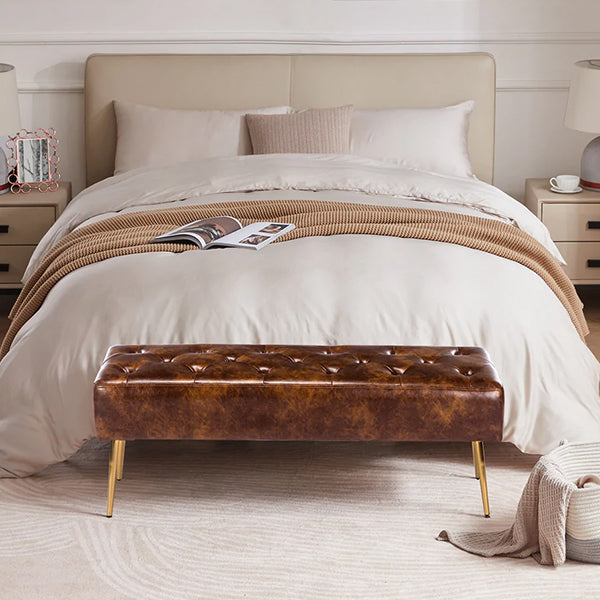 A Bench at the End of Bed Can Be Both Practical and Stylish
A bench at the end of your bed can be both practical and stylish. It's great for resting, offers extra seating, boosts your style, provides a safe place to stash things and creates an anchor in your room. This is especially true if you have a platform bed with no headboard. In addition to using it as a nightstand or ottoman, here are some more ways you can make use of this multipurpose piece:
●Use it as an additional seating in small rooms like bathrooms or closets - or even in larger spaces where floor seating isn't ideal (like kitchens).
●Put it next to a chair, so people can sit down while they put on their shoes or grab something from their bags without having to get up from their seat.
Conclusion
We hope that you found these seven reasons for adding a bench to the end of your bed informative and helpful. While it may not be a suitable choice for every bedroom, it is definitely one that can add functionality as well as style. If you do choose to go ahead with this design idea, there are plenty of great options available online in
our store
. Happy shopping!