6 Simple Spring Decor Ideas to Freshen Up Your Bedroom
Duhome Furniture .
May 06, 2022
It's finally official! SPRING - the most vibrant season about awakening, when all of the budding greenery is around, the flowers are blooming and birds are serenading. We are feeling its breath already. So what's your plan to give your space a new look? Where to take the first step? We would say: "Master Bedroom". If you've ever had the experience feeling the whole day is ruined after getting up on the wrong side of bed, we believe you'll join us. Read on for six inspiration ideas that make it easier than ever to welcome the springtime in your own space. Simple spring decorating tips that anyone can do, including you!
Give Your Home a Traditional Spring Cleaning
Before you get started, don't forget to give your bedroom a deep clean - clear the clutter and get all things organized first. It's one of the biggest parts in spring bedroom decoration, daunting, time-consuming and overwhelming. However, nothing feels quite as satisfying as finding your old room resparkle with freshness and tidiness. When you've finished this step, you will get a head start over this Spring Bedroom Decor Competition! Let' take a closer look at some other ideas to make you win.
Add Pops of Spring-Vibe Colors to Liven Up Your Bedroom
Once the weather warms up, it's time to let in more sunshine and of course, some brighter color theme. Replace dark, winter-appropriate colors with some light, airy feel to lighten up your old bedroom that was stuck with dreary winter. It will definitely change the overall vibe and bring vibrancy of the season inside. Light pink, atrovirens and blue are all the right colors that scream spring, transitioning your home to spring-fresh space.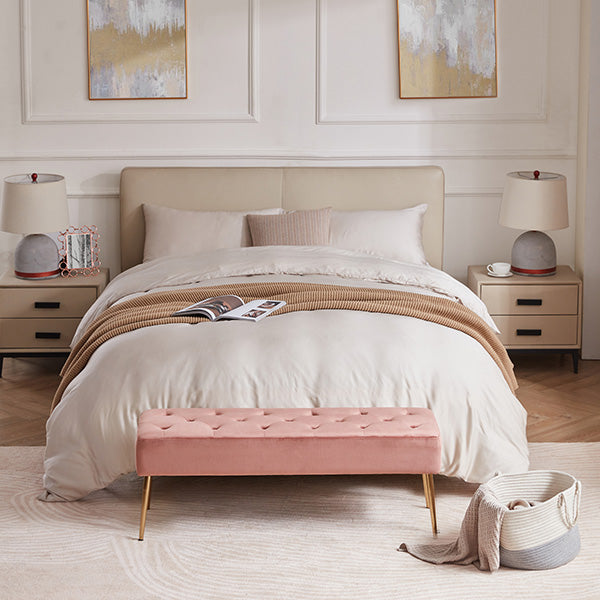 Scatter Fresh Greens and Blooms All Over
Nothing says spring like blooming flowers and fresh greenery. After determining the main color theme, get ready to bring Mother Nature inside with such a lovely idea. You can start small with some locally in-season flowers and fresh greenery, which seems to be the quickest and least expensive way to add a little fun spring feel. A minimalist wood bachelor's chest or nightstand for sale will be one of the best places to display your flower bouquets, succulent plants and more. It may depend your mood in the morning (even the whole day), when you open eyes to find spring at your bedside.
Rearrange/Replace Bedroom Benches or Ottomans
A new bedroom bench or ottoman? Why not?! Let's jump right into spring - out with the old, and in with the new. Replace your old velvet bedroom benches with some modern faux leather benches for bedroom. Position your bedroom bench near the windows rather than the regular foot of your bed, creating a wow factor in your small corner. Sometimes you won't know what a big difference this small tweak can make. And all that's left to do is bask in the natural light and feel the breezy hours.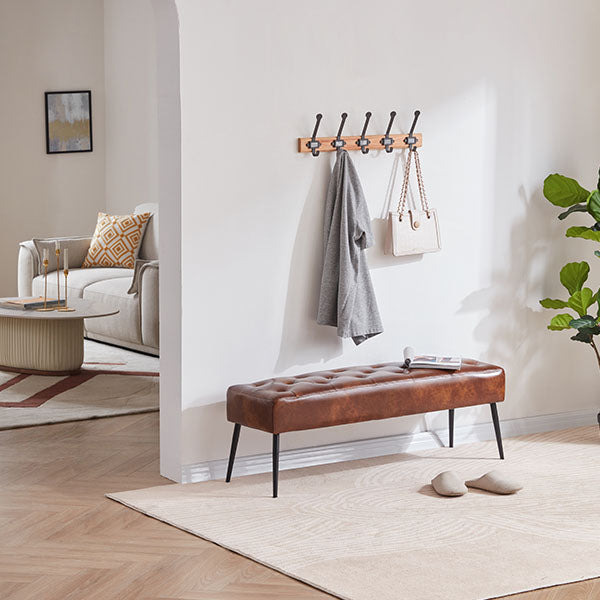 Sprinkle in Some Colors with New Wallpaper/Bedding/Pillows
In addition to the modern furniture including corner bedroom benches or tufted ottomans above-mentioned, there are some other smart decor tips for a cheerful, springy vibe. You can turn your bedroom into a gorgeous indoor oasis with striking wallpaper, dress your bed with spring-fresh bedding, switch out heavy winter blankets with light one on your modern leather bedroom benches, and mix in bo-ho textured throw pillows or rugs for some vibrant touches.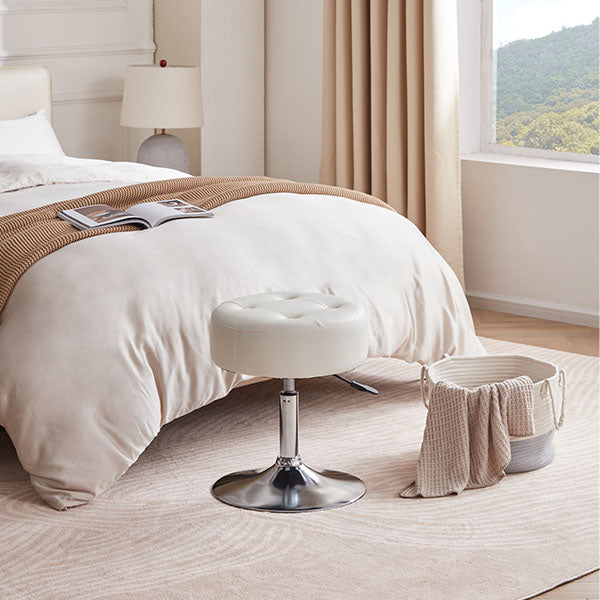 Diffuse a Spring Scent in Your Bedroom
If you've been longing to upgrade your master bedroom from top to toe, there's no reason not to try the scents. Keep the essential oils in the drawer of our bachelor's chest nightstand, so you can get easy access to create your own scent. For the cheery spring and upcoming summer, more light, citrusy scents are the perfect solution to make your room a personality-packed abode.
Final Words:
From new corner bedroom benches, tufted ottomans, minimalist wood nightstands to bold florals and impressive wallpaper or bo-ho pillows and rugs, use everything that makes your mood spring. We hope you've been inspired by our spring decor tips, and remember - home isn't built in a day. Have a sun-filled Spring and come
here
again for more inspiration to spruce up your home! Keep in mind that we've sprinkled in a few home design trends as well as some new arrivals and
hot sellers
to give your room sunshine treatment.