20 Types of Popular Dining Room Chairs (The Ultimate Guide)
Duhome Furniture .
Sep 01, 2021
Still being Internet trawling like a demon without any perfect solution for dining chairs? Need tips on buying the second-to-none chairs to upgrade your dining room? No worries. Come peep our Ultimate Guide. We've rounded up the most-loved designs to help you pick out the right one to start with. Read on to learn more about the derivation and features of up to 20 types of dining chairs. You can also be a chair expert.
Ladder Back Chairs
Dating back to the middle ages in homes across Europe, ladder back chairs are born with vintage historic genre. By the 17th century, ladder-back was one of the most welcomed style in England. The
affordable dining room chairs
get the name right from multiple horizontal slats (usually 2-6) spaced along the back, looking like the rungs of a ladder. Originally the majority of seats were made of cane or rush, whereas now, furniture makers tend to use wood as the material. Creating a light and open look, ladder back chairs work best in more rustic and traditional styles, a safe yet simple solution built for many years to come.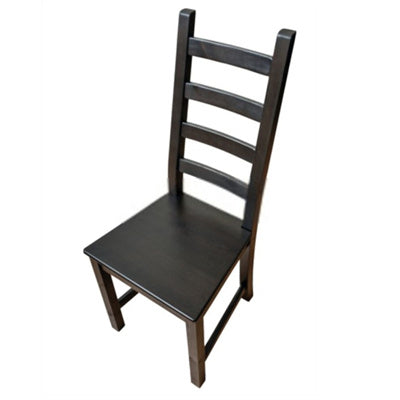 Image by Grigvovan from Shutterstock
Slat Back Chairs & Spindle Dining Chairs
Similar to its cousin the ladder back chair above mentioned, slat back chairs feature evenly spaced slats, but only in vertical way. Different from a straight slat, the spindle dining chairs, are composed of cylindrically symmetric shafts, usually made of wood. As a Danish furniture classic originally designed in 1940s, spindle dining chairs are ideal for showcasing functions and versatility.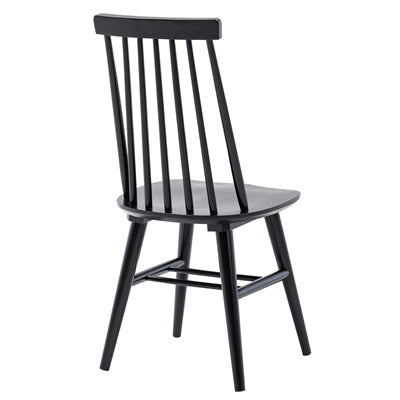 Splat Back Chairs
Splat back chairs boast a centrally placed, vertical column on the chair back, attaching to the frame. Ornate contrast from most chairs' simple lines, is the leading highlight that endears them to people. And you may hear of fiddle back chairs, the more familiar version of this kind of chair.
Duhome Splat Back Chair Collection
Queen Anne Chairs
The cabriole leg is the most recognizable element of Queen Anne chairs. You can easily sort them out when finding their cabriole legs, which mimic the natural graceful curves of animals' legs. There is no better way to dine in style and elegance like a queen than choosing a Queen Annie chair.
Bow Back Chairs
The most distinctive trait of bow back chairs is steam bent bow of the back. What is stream bending? It's a woodworking technique where wood is exposed to steam to make it pliable. Paddle back chairs, dowel back chairs, arrow back chairs, and feather back chairs are all bow back chairs. Generally, the bow arcs over several slender spindles, providing abundant support for your lumbar.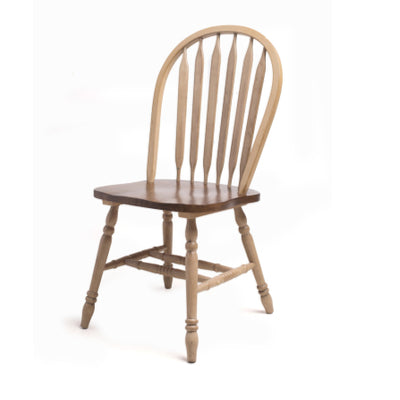 Image by Yarrrrrbright from Shutterstock
Windsor Chairs
The story derived from around 1710, an English furniture maker designed it in Windsor town and named it the Windsor chair. Constructed with multiple thin spindles on the back and sides, the chair helps ramp up your style, a statement especially for traditional, country, or vintage houses.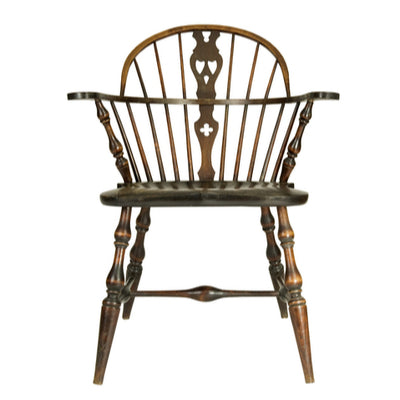 Image by MARGRIT HIRSCH from Shutterstock
Cross Back Chairs
Simply put, cross back chairs feature an X-shaped design on the back. They are originally found in 20th century French bistros. They fit perfectly with the warm themes and look great with rustic farmhouse decor, French country or coastal style. Often known for their solid construction, cross back chairs are built for years of use.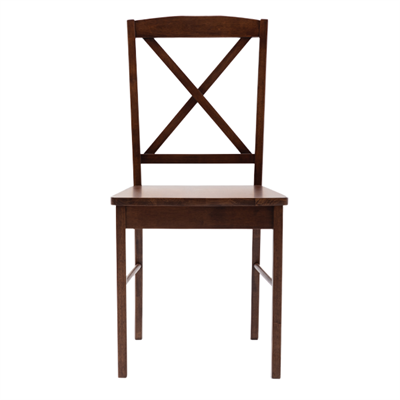 Duhome Sonoma Cross Back Chairs
Wishbone Chairs
An undisputed master of Danish chair design, Hans J. Wegner designed the very first model exclusively for Carl Hansen & Søn furniture company in 1949. With the back shaped like a wishbone, the chair is also referred to as a Y chair. It remains a classic to this day due to its iconic aesthetics and distinction.
Lattice Back Chairs & Keyhole Back Chairs
Draw your attention with stunning openwork pattern, lattice back chairs show some geometric beauty with grids on the back to complete your dining room look. Similarly, keyhole back chairs come with a central cutout, usually square or rectangular like a keyhole.
Barrel Back Chairs
The barrel back chair strikes a classic silhouette with a bowl-shaped back, and typically covered with soft, cushioned upholstery. The decent design with cascading sides gives it a modern, contemporary demeanor.
Slope Dining Chairs
The slope dining chair curves in the back, some also in the seat for ultimate comfort. It fits perfectly your back with the right amount of support. And the posh look goes well with modern, contemporary, minimalism or industrial interior design.
Wingback Chairs
With wings attached to the seatback, wingback chairs help protect people's shoulders against drafts, and trap the heat from a fireplace when they were invented. They are first introduced in England during the 1600s and then became popular in the 1720s. It's a design that oozes classic and vintage vibe to perfectly match with mid-century decor.
Armchairs

& Side Chairs
Armchairs feature some type of arms on both sides, allowing you to relax back into to enjoy the morning paper or cuddle up watching fun TV shows at night. By definition, side chairs come with no arms, and usually sit along the side of a dining table for easy placement, storage and moving around. A versatile addition when you need occasional seating.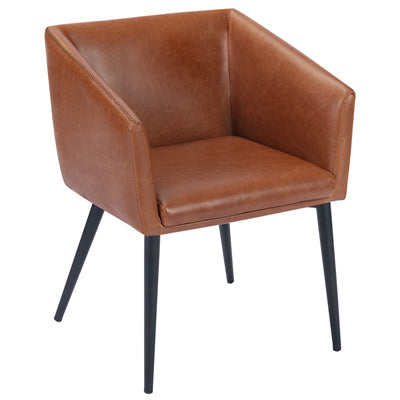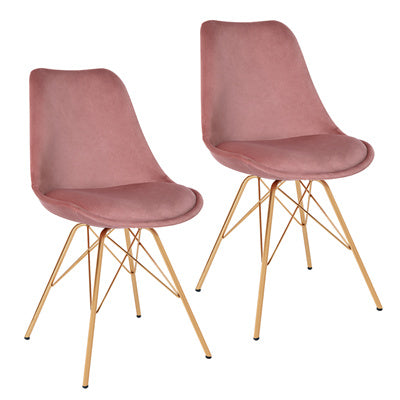 Parsons Chairs
Parsons chairs are traditionally high-backed, cushioned, and armless. Named for the Parsons School of Design in Paris, France in 1930s, Parson chairs become a focal point with its clean, simple lines and fully upholstered seats. From linen, leather, fabric to patterned, button-tufted, Parsons chairs have got all oodles of possibilities to deliver classic modern appeal in any room.
Eames Dining Chairs
Eames dining chairs, created in 1950 by the great American mid-century furniture designers Charles and Ray Eames has brought a new kind of beauty to people' lives. Their design philosophy was focused on designing mass-produced chairs that all of us can afford, without compromising on comfort and pioneering design. Their innovative adoption of fiberglass and plastic as the main material left a significant influence on the worlds of furniture and architectural design down the decades.
Today, Eames dining chairs are made from 100% recyclable polypropylene available in various color options. With or without side armrests, Eames chairs are molded as one piece with wood or metal legs attached underneath the seat.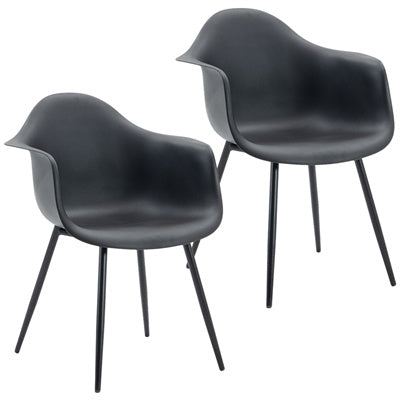 Duhome Eames Dining Chairs
Cantilever Chairs
One of the sleekest modern dining chairs is the cantilever chair. Instead of typically arranged by 4 legs, cantilever chair is held up with a single tubular piece of metal shaped into a double L, serving as a supporting base. It debuted into the furniture market in the 1920s and became an international sensation with its unusual look to fit in naturally for any modern decor.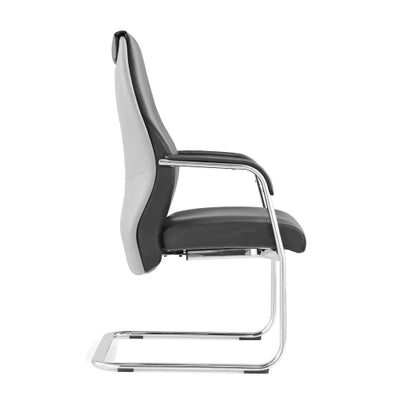 Image by WakoPako from Shutterstock
Folding Chairs
Its name has told you everything. What does the folding chair do? Obviously it's fold. You can find it anywhere when you need an additional seating. It easily folds up, so you can feel free to store it away for the next time use.